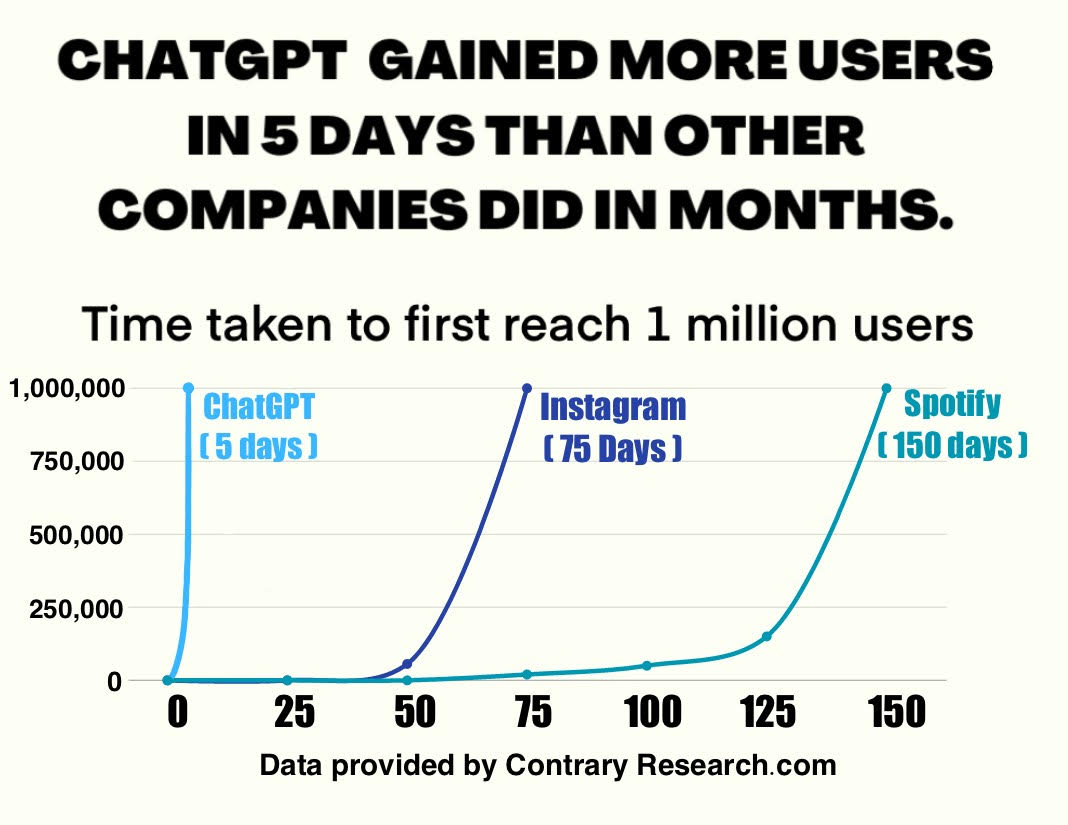 Free AI research preview sparks controversy within schools
Read Time:
4 Minute, 37 Second
UNMATCHED GROWTH: ChatGPT, the fastest growing website ever, managed to aquire one million users in the first five days. Chat GPT is an artificial intelligence chatbot that conducts human-like interactions with users, but students have taken advantage of this program to recieve help with assignments. Graph by Erica Zuber
By: Sarah McPike, Natalie Childers, and Sonia Gidwani
Every day the world becomes more advanced with each technological improvement or creation. A particular example of this is artificial intelligence (AI). With the help of AI, numerous tasks including research, schoolwork and writing have become much more helpful in daily life.
ChatGPT, an AI chatbot, was launched in November 2022. Growing at unprecedented rates, it managed to reach one million users in only five days and 100 million by January 2023. Chat GPT has the ability to respond to questions with human-like manners, and its competence has caused millions of people to use it for both helpful and nefarious reasons.
"People assume that what the AI spits out is the truth and factual, and it is not. AI straight up just spits out garbage, but sometimes it just looks like it makes sense," said social studies teacher Lisa Schuurmans. "It could create a reliance on the technology which would create an inability to produce on our own. If we rely on Chat GPT to create, then we are not producing our own creations. So, there could definitely be some negative drawbacks to it."
On Nov. 30, 2022, an American research laboratory named OpenAI launched its most intricate system yet, ChatGPT. The program consists of an AI chatbot
designed to generate human-like responses to a given request. Because of these features, many have been utilizing the chatbot to research topics, write reports, debug codes and more. Many new
innovations have their complications, and ChatGPT is no different, as misinformation from it is a prevalent concern. ​​It is estimated to be the fastest-growing internet service ever, reaching 100 million users two months after launch.
"I thought it was just like another one of those AI systems, but then I saw it and it is a lot better than what it seemed to be," said senior Kaya Meyers.
Although ChatGPT can be used with legitimate intentions, people in power have been speaking up about the inevitable dangers that come along with it. In February 2023, CNBC released an interview with former OpenAI founder Elon Musk, where he argued that AI safety should be regulated. Some districts have even started to ban students from accessing the ChatGPT program on school devices. Stated in a Forbes article, The Los Angeles Unified School District was the first to put the ban into action on Dec. 12, 2022. School board members are reasoning that fear of increased plagiarism from lazy students is a main motive to prohibit ChatGPT in schools. OpenAI has even released a free plagiarism-detection software called AI classifier, which the chatbot has ultimately gotten past. Additionally, ChatGPT has proven to display gender, racial and religious bias in its responses if manipulated to respond as such by users, but OpenAI has stated that they are taking steps to strengthen the filter on what ChatGPT can answer. For those that attempted to get the AI to produce controversial responses, these filters will prevent the program from doing so.
"You could just cheat on every test, for example, a permit," said freshman Alejandro Versace. "You could cheat on that and not know how to drive out there."
Additionally, critics have begun to feel more wary of the possibilities of AI as it continues to develop and becomes more sophisticated. However, some users have been exploring new uses for ChatGPT to be used in the classroom positively. According to an article by "Ditch That Textbook", teachers could utilize the chatbot as a tool for generating classroom activity ideas, writing personalized lesson plans for individual students and prompting questions to start discussions. Despite this, a popular concern amongst users is the fact that it is not always right, depending on the question and the sources for the answer. More teachers are beginning to realize that instead of viewing ChatGPT as a negative force to the classroom, they can team up with it and enhance their instruction.
"Hopefully it will allow teachers and students more access to deeper ideas and understanding," Schuurmans said. "It would be more about feeding the computer and the program the right information than the technical aspects of the writing, which is where a lot of people get exhausted."
Although the technology has the ability to offer aid in many areas, there are many who are concerned about the future. Due to worries about academic integrity and cheating, several institutions have already banned the use of AI language models like ChatGPT during exams. The adoption of ChatGPT and other AI technologies may also lead to certain job losses in specific areas, which might have negative
economic and societal repercussions. The necessity for regulations limiting the creation and application of AI language models is also being discussed, particularly in light of privacy, security, and ethical issues. In order to maximize ChatGPT's positive effects and reduce any potential negative impacts, it will be crucial to thoroughly analyze and handle these potential difficulties.
"I think there is going to be a lot more work from students that is done in front of the teacher. The things that are done at home are not going to be the things where someone can use an app like this," said Social Studies teacher Sande Hartman.