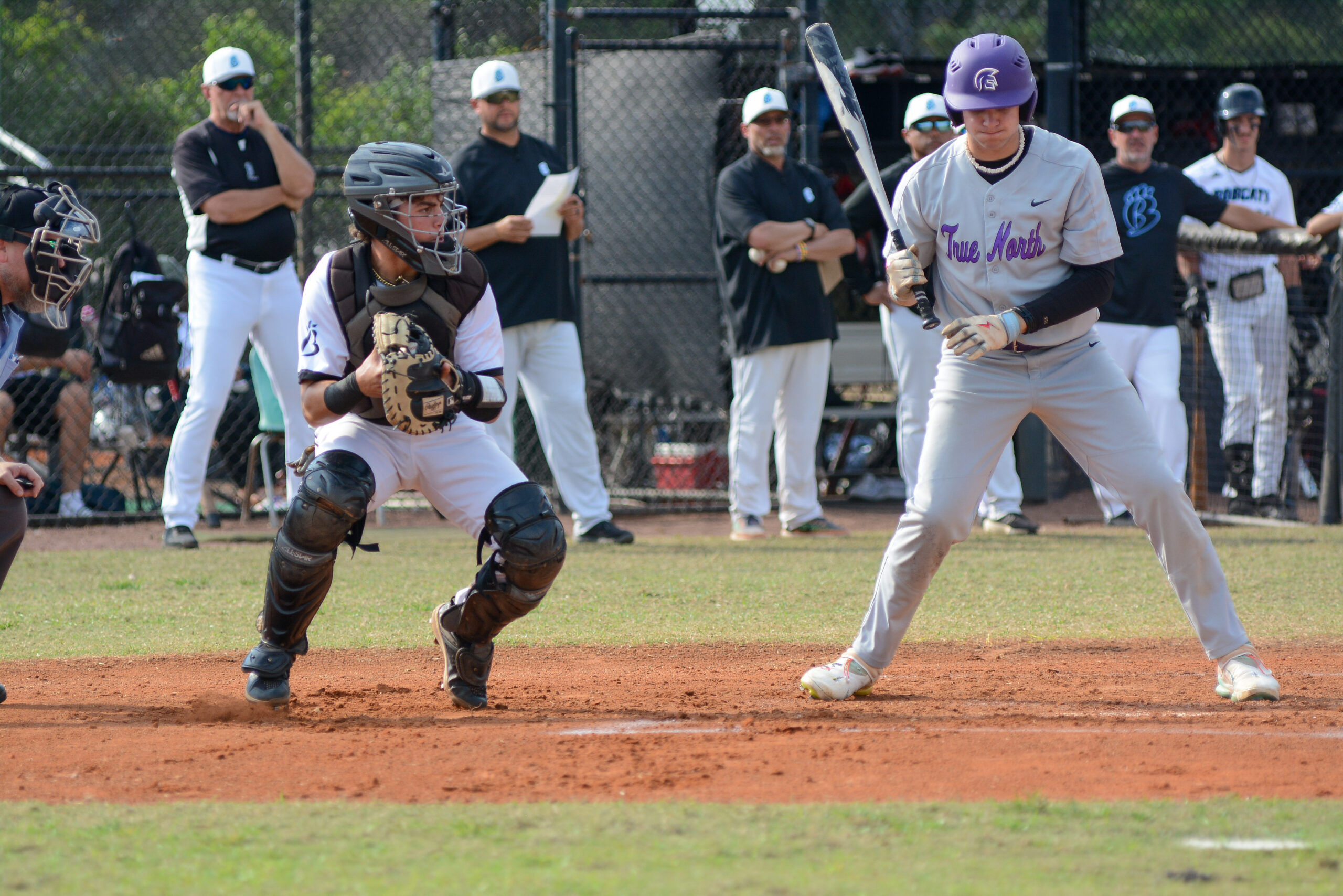 Boy's baseball would continue their playoff run in regionals
Read Time:
5 Minute, 57 Second
THROWING DOWN: After West Broward's pitcher throws a strike against True North's batter, senior catcher Carlos Garcia prepares to throw down in an attempt to get a runner out. True North took a late start to the game which resulted in West Broward's win of 16-5. Photo courtesy of Fox-Mar
By: Madison Peller and Gary Pochette
Up to this point in the 2022-23 season, West Broward's boy's baseball team, affectionately named "The Breezy Boys", have secured a 17-8 record from their strong offensive performance. The Bobcats have continued to win several blowout games where they prove that not only is their offense holding up, but their defense also continues to be exceptional.
After the class of 2022's seniors graduated and went off to college on sports scholarships, the Bobcats have been putting in the effort to make up for key graduates that left, such as Dean Guzman, Derek Bermudez, Sebastian Perez, Joey Schietromo, Vince Alvarez, and PJ Iglesias. Perez acquired a scholarship to the University of Miami to pursue his pitching at a higher level.
"Losing our "big donkey", like we used to call him, Sebastian Perez, we knew we would have to have guys step up like Jason Wachs and Andres Cruz. Having those two guys to fill those roles of not having Sebastian Perez here has helped with the first 5 games of our season," said West Broward's baseball assistant coach Carlos Garcia.
After all of the work, such as conditioning and long practices, that the Bobcats put in during the fall, they started off their season on Feb. 21. The Bobcats took an early 4-2 lead in the third inning against the Western Wildcats. The Bobcats were able to score one run each in the sixth and seventh inning and hold onto a 5-2 victory. Leading the game, senior pitcher and first baseman Andres Cruz hit a home run and had 2 RBIs (Runs Batted In). Mason Elrod went 2 for 2 with 2 at bats, 2 hits and 1 run scored.
"It is a winning mentality, which is what we preach. We work and we work hard. Obviously, winning that first game is high for confidence and a big ego-booster," continued Garcia.
On the following day, the Bobcats would fall hard to Stoneman Douglas in a 10-0 shutout loss. West Broward would bounce back against St. Thomas Aquinas on Feb 23. Throughout the first few innings, the Bobcats and the Raiders stayed relatively close with a score of 5-3 at the end of the sixth inning. During the seventh inning, the Bobcats would take a far lead, scoring 5 more runs, and ending the game at 10-3. Cruz went 2 for 2, hit a homerun, and had 2 RBIs. Sophomore left fielder Andrew Alvarez, senior second baseman Brandon Vargas, and junior shortstop Alejandro Sardiñas each scored 2 runs and hit one double each.
"I think it is just our mentality every time that we go in there because of the name that they have. We play down and do not play at their level. I think when we face them again, it will be different," said Cruz.
The Bobcats would travel to Key West to face off against the Key West Conch on Mar. 3 and Mar. 4. During their first game, Alvarez would once again lead the offensive attack with a triple, a double, and 1 RBI. The Bobcats started out strong, scoring 7 runs at the end of the second inning and then 1 run in the fifth inning, ending the game with a 8-5 win. During their second game in Key West, the Bobcats started out with another lead and ended the game with another win, 14-6. Alvarez had 1 homerun, scored 2 runs and had 2 RBIs. Elrod came up and also hit a homerun, scored 2 runs and had 3 RBIs.
"We always look forward to the Key West games. Our boys went out there and played with a lot of emotion and grit. There was high energy on both ends and we shut the doors and came out with both wins," said Garcia.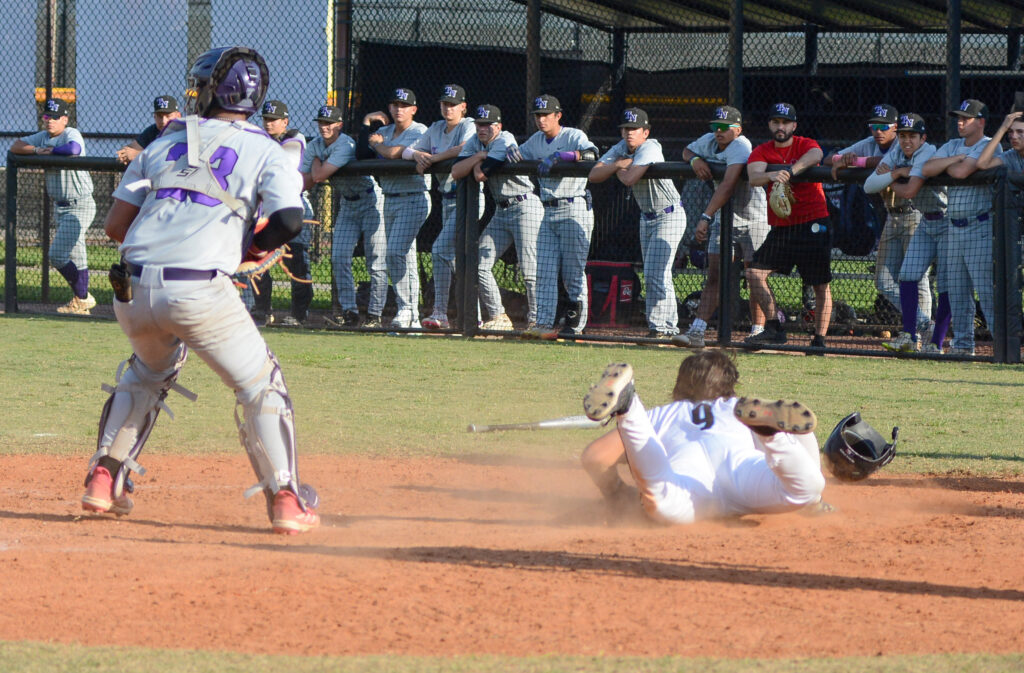 On Mar. 7, West Broward's baseball team followed this game up with an outstanding performance against True North Classical Academy, winning the game against the Titans 16-5. Elrod hit a homerun during this game as well as making 3 RBIs. The Bobcats then went on to beat Miller School of Albemarle 6-3. West Broward continued their winning streak after beating Miller School of Albemarle with a score of 6-3. "During these games, we kept the ball rolling from the Key West games and picked up right where we left off. It is fun to play baseball when you are winning and we just kept riding that feeling," said Cruz.
After the Bobcats had a five game winning streak, they unfortunately let it go after losing against Coral Springs Charter 8-6 and then Monarch 6-4. The Bobcats then went against Cardinal Newman and increased their record by winning with a score of 8-6. In this game, Wachs went 2-4 with 1 homerun, 4 RBIs, and a double. Barcelo also hit 1 homerun and had 1 RBI. The Bobcats continued winning after facing Jupiter 11-1.
"Losing to these games was a big shot to our confidence. We went into those away games thinking that they were easy wins, but we should have treated them like any other team and played with the intensity that we always do," said Cruz.
The Bobcats would take another loss against Park Vista 6-2, but that would not stop them from going into the Cardinal Gibbons with heat. The Bobcats would beat them 16-2 with Alvarez going 2-2, having 1 homerun, 2 doubles, and 5 RBI's. West Broward would take a close win against Taravella ending in 10-9. The team went on to conquer McArthur with a 6-0 blowout and Everglades in a 13-0 stampede. West Broward moved on to the semi-finals in which they went against Charles W. Flanagan High school who they beat with a score of 5-0, qualifying them for districts.
The Bobcats would capture the district championship 9-6 against Western. Sardinas and Alvarez both carried their weight by having 3 runs each with Alvarez hitting a homerun. In the first game in regional play, the Bobcats would break a thrilling 5-5 tie in the 9th inning and defeat South Dade 6-5.
"After being down 5-1, our season was very close to being over," head coach Howard Stein. "When we came back and tied it I do not think anyone had any doubt that we were wining that game. After a hard fought game until the ninth inning, that walkoff feeling was like no other."