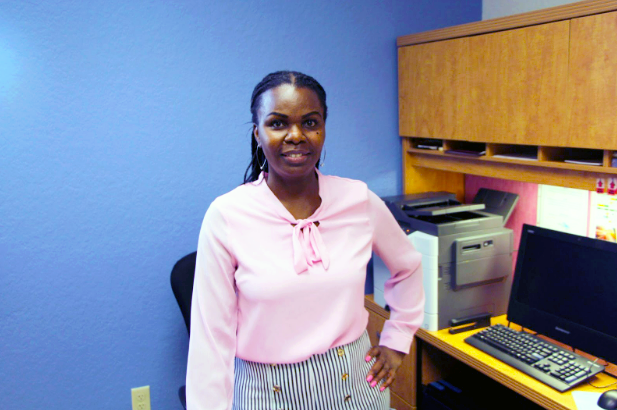 Dionne Sterling starts her administrative career at West Broward
Read Time:
2 Minute, 30 Second
SETTLING IN: The new Grade 9 assistant principal Dionne Sterling was hired in October 2022 after working in three middle schools. Additionally, she will oversee the fine arts and science departments. Photo by Jaydin Sellers
By: Mia Villegas and Jaydin Sellers
After teaching English at Allapattah Middle School, Pines Middle and Indian Ridge Middle School over the last fifteen years, Dionne Sterling would begin a new journey on her career path as the new ninth grade assistant principal at West Broward High School.
After the 2021-2022 school year, Assistant Principal Gwendolyn Mola took a new position at Sheridan Technical College and Assistant Casey Pacella went on leave, and so West Broward needed to fill two administrative positions for the 2022-2023 school year. Dionne Sterling was hired in October of 2022 to take on one of those roles. In addition to Grade 9, Sterling oversees the science department, fine arts department. She was chosen for this position as she had previously come from teaching at a middle school and would be best equipped to understand the transition from middle school to high school.
"She is really adapted extremely well, she is amazing with parents, students and teachers," said Grade 12 assistant principal Frank Jones.
In Grade 9, Sterling realized her love for English literature after her English teacher Mr. Palazzo had taken her class to watch Romeo and Juliet live in a theater in Stratford, Ontario, after they had read Shakespeare in class. She admired how happy Mr. Palazzo was throughout the whole experience, and realized she wanted to give kids the opportunities they would not have otherwise had.
"I just wanted to be like my English teacher, who brought all this joy and happiness to his students," said Sterling.
Prior to West Broward, Sterling taught Grades 6 and 8. She would often help administrators and would even be offered positions as the department head, but would deny them as she wanted to maintain the connection she had in the classroom with her students. However, she soon realized it was time for a change of pace in her career, and so she looked into becoming an administrator.
"I was also at that stage in my life to where I felt like, as much as I love being in my classroom, I love the relationship with my students. I felt like I was ready to grow in a different way," explained Sterling.
From working with other assistant principals to helping her departments become more successful, Sterling has quickly become a strong leader at West Broward. As it will take time to learn high school graduation requirements, discipline and extracurriculars, her addition to the team has been nothing but beneficial. She aims to help the fine arts and science departments become better. Sterling hopes to grow and learn in her new career path.
"As I move forward, you know, the goal is to have more of that collaboration, those discussions and helping my department become more successful," said Sterling.