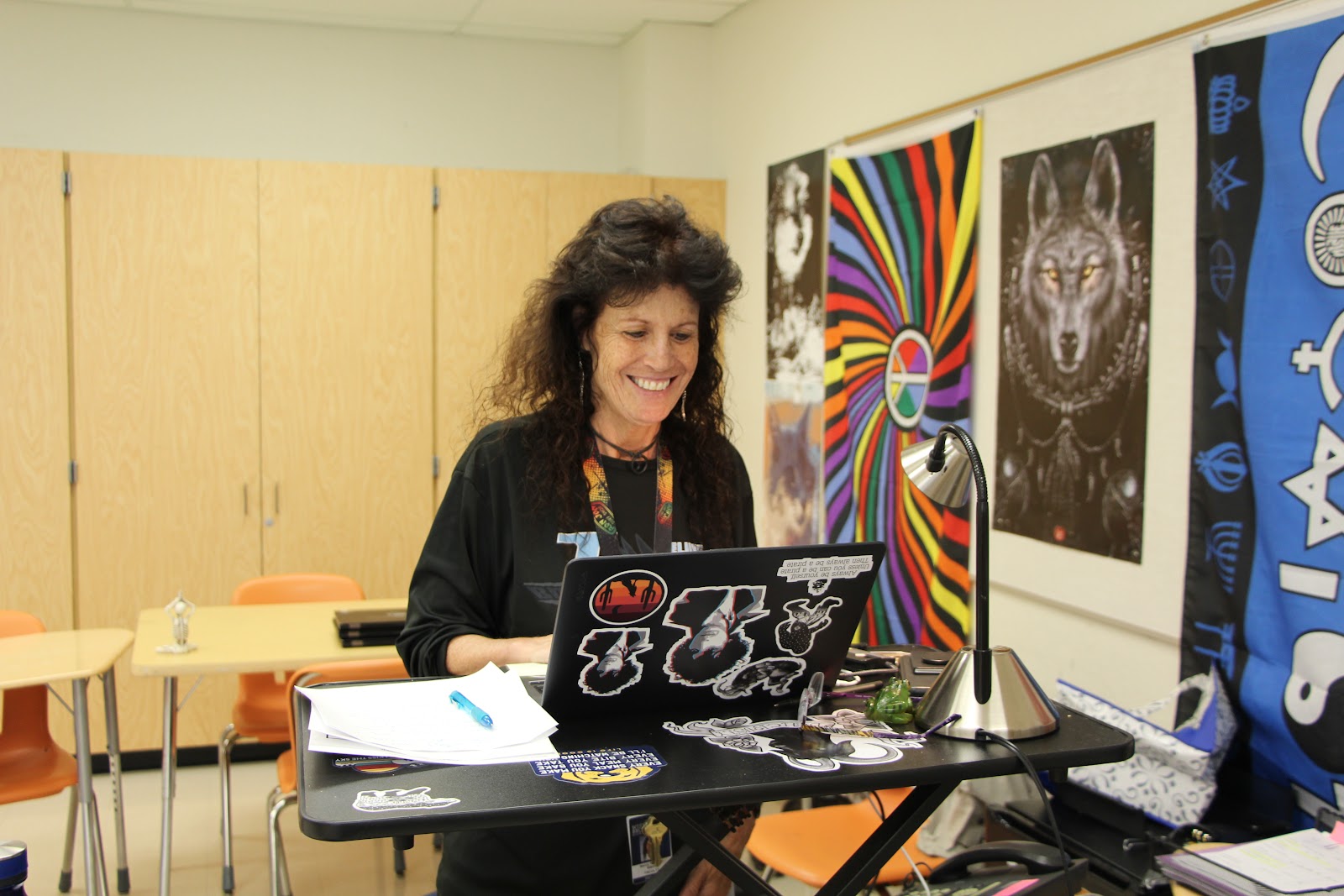 ESE Support Facilitator Nancy Feldman makes the transition from 11 grade English teacher 
Read Time:
2 Minute, 50 Second
TIME TO WORK: Nancy Feldman smiles while documenting her students' accommodations. The week of the PSAT left Feldman busy verifying that her students would be testing in the proper conditions according to their IEPs. Photo by Aleksi Holder
Former English 3 teacher, Nancy Feldman, has been given the opportunity to pursue a different role in education as an Exceptional Student Education (ESE) Support Facilitator. After 24 years of teaching the subject, she has decided to take on the job to support her students.
Feldman has worked as an English teacher since the school's conception 14 years ago, but she was able to make the long awaited transition to the ESE Support Facilitator Department in the 15 year. Her position focuses on collaborating with students' non-ESE teachers to make sure that they get the assistance they need to best succeed after graduation.
"The reason I transitioned was I really wanted to know that I was making an impact, and sometimes in a classroom when you have so many kids in the room, It's really hard to connect on that one-on-one level, so I felt like I couldn't really gauge how much of a difference I really was making." said Nancy Feldman
Feldman graduated with a Master of Science in Elementary Education and first started teaching in New York, later coming to Florida where she taught both gifted and ESE students. Despite her passion for literature, Feldman felt that the effects of teaching a full class were not as great as the one-on-one interactions she would get from her job as a support facilitator. Feldman received her ESE certification six years ago, but without a demand for the job, she chose to stay as an English teacher until a position opened up with the recommendation of ESE Support Facilitator Rodney Sell.
"Actually, it was my wife, Mrs. Sell, who worked with Mrs. Feldman in her classroom a few years ago, and when the Support Facilitator position became open, we were trying to find somebody who we thought would fit in that position," Sell said. "Then, I remembered that Mrs. Feldman had told my wife a few years ago that she would love to do this job, so I mentioned it to the school that I think I know somebody who would want this position."
The transition to Support Facilitator exposed Feldman to a different role within education where she had the opportunity to personalize her interactions with her students to figure out the best course of action to help them excel both inside and outside of school. Being able to have this kind of personalized relationship gives Feldman the satisfaction of making a difference in her students' lives.While she misses the life lessons learnt from a good piece of literature, she loves having the ability to help her students in depth and know that she has had a positive effect on them.
"I love it. I absolutely love it. It's a lot to learn very quickly, so it's been a little stressful in that respect, but everyone has been so helpful. Everyone in the ESE department, they're all so nice and so patient. That has really made a big difference, and I love working with the kids. That's my favorite part." Feldman said.