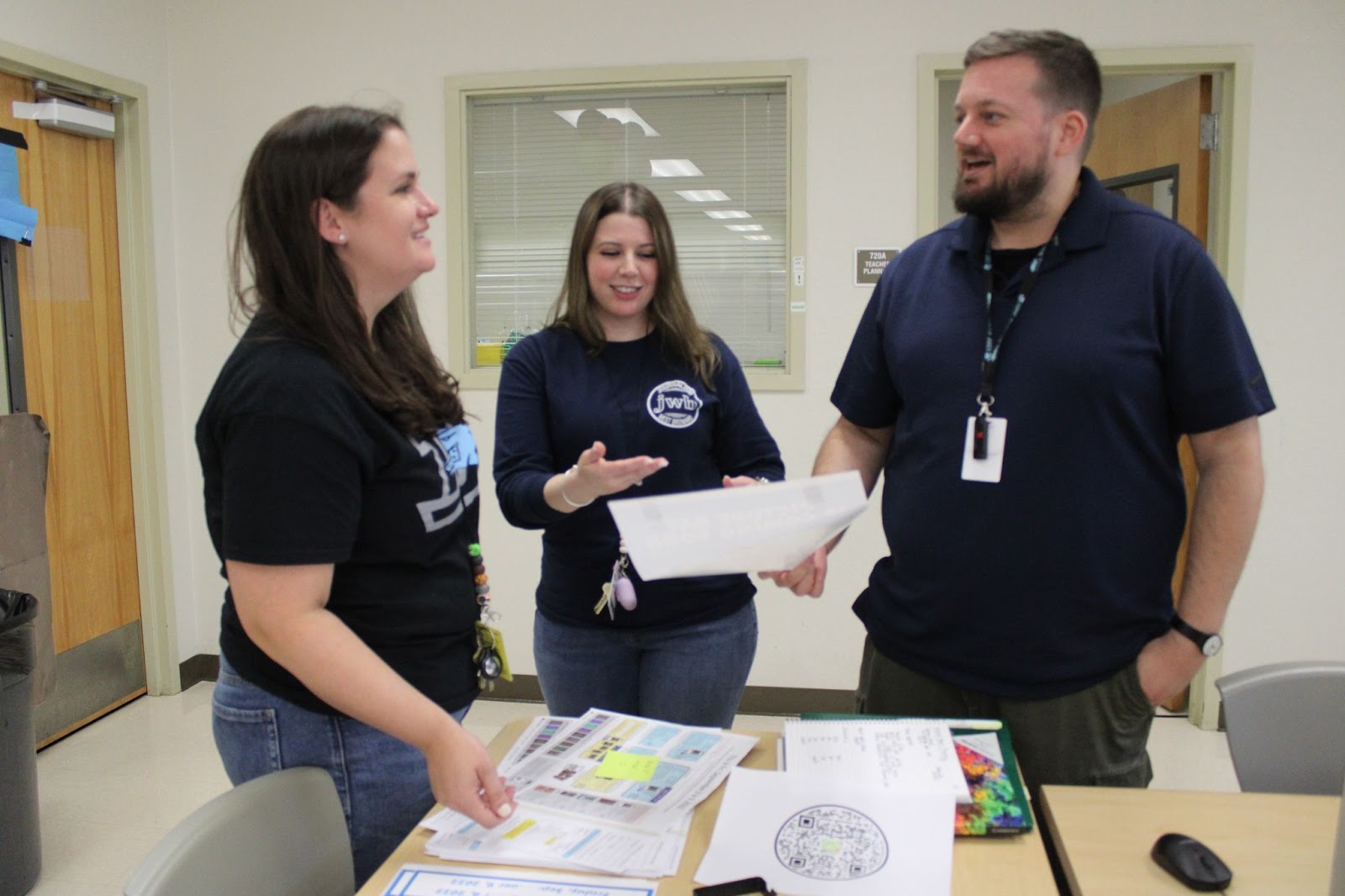 Acosta Family takes over English and Math departments
Read Time:
4 Minute, 3 Second
FAMILY FUN: (From left to right) Brooke Acosta, Krizia Acosta-Marrero and Joshua Acosta have a friendly conversation after school to discuss this year's yearbook plans. As yearbook advisor, Brooke Acosta shared exciting and upcoming plans to her husband and sister-in-law. Photo by Mariana De Jesus
It is well recognized that as any new school year approaches, new students, staff and opportunities present themselves onto campus. With resolutions commencing at the start of a new school year, being able to recognize a familiar face can aid in the process of following through with scholarly goals. Specifically in the Acosta family, the 2022-2023 school year promises a familiar 180 days in which three members of the household will now be pursuing their passion of teaching together at the same campus.
The Acosta clan is able to teach a multitude of subjects to all grade levels, ultimately demonstrating how the family's diverse teaching abilities are swiftly taking over several departments. Joshua Acosta first initiated the move from Don Soffer Aventura High School to West Broward in 2020 after having worked at Renaissance Charter School at Cooper City for five years. Joshua covers the math subject in the Acosta family by teaching Algebra I to ninth and tenth grade and Probability and Statistics to eleventh and twelfth grade. Next to join the West Broward family was Joshua's wife, Brooke Acosta who teaches Advanced International Certificate of Education (AICE) General Paper, Global Perspectives, Journalism I and Yearbook. The couple has now worked across the hall from each other for the past two years. In light of a new school year and teaching opportunities, Krizia Acosta-Marrero, Joshua Acosta's younger sister, will now be joining the couple in their teaching pursuits by teaching tenth grade English after having worked at charter company CSC USA for six years and Cypress Bay High School for two years. The close knit family can expand the bounds of their relationships by working in close relations to one another.
"Although Joshua Acosta teaches math and is on a different team and Brooke Acosta and I are in the English department, it is still helpful to work with each other because we get to bounce ideas off of each other and share what worked best for classes in previous years," said English teacher Krizia Acosta-Marrero. "So although we don't teach the exact grade levels, we can still share strategies and help each other out as much as we can."
Thanks to the close proximity, the Acosta family is able to decompress after long school days by grabbing a cup of coffee after school and checking up on each other as much as they can throughout the day. Besides being separated by the 700 and 200 buildings, the Acostas find opportunities throughout the day in school to support each other like meeting up for lunch or staff conferences. When the Acostas collaborate with each other, they are able to bring a sense of delight to their diligent jobs. Being on the same team, it is fundamental to depend on each other as support systems and continue to grow as individuals together. The Acostas are able to find joy in the ability to connect and support each other on challenges encountered in departments and throughout the school.
"We have all been teachers for so long, so being able to work in the same building we can share the struggles and triumphs we face throughout the day," said AICE General Paper, Global Perspectives, Journalism I and Yearbook advisor Brooke Acosta. "We can relate more to each other because we understand the student body."
The Acostas have mentioned their professional goals for each other like staying consistent with their teaching practices this year. With the motivation to see each other succeed in their teaching efforts, it is important to the family that they share and promote their success to each other as they come. Without a doubt, their high expectations motivate each other to represent the Acosta name in a respectable and memorable way. They want to make their family proud by pushing each other to their fullest potential and striving to leave a legacy for West Broward to commemorate. Although the school year has just begun, the family is very optimistic about fulfilling their role as teachers of creating an environment to promote a positive influence on their students that is directly related to the family's dynamic relationship.
"It is great to have support systems built in during the school year." said Algebra I and Probability and Statistics teacher Joshua Acosta. "Everyone has coworkers that they can rely on for support, but we have family members that are present throughout school to help understand on a deeper level what we are going through."