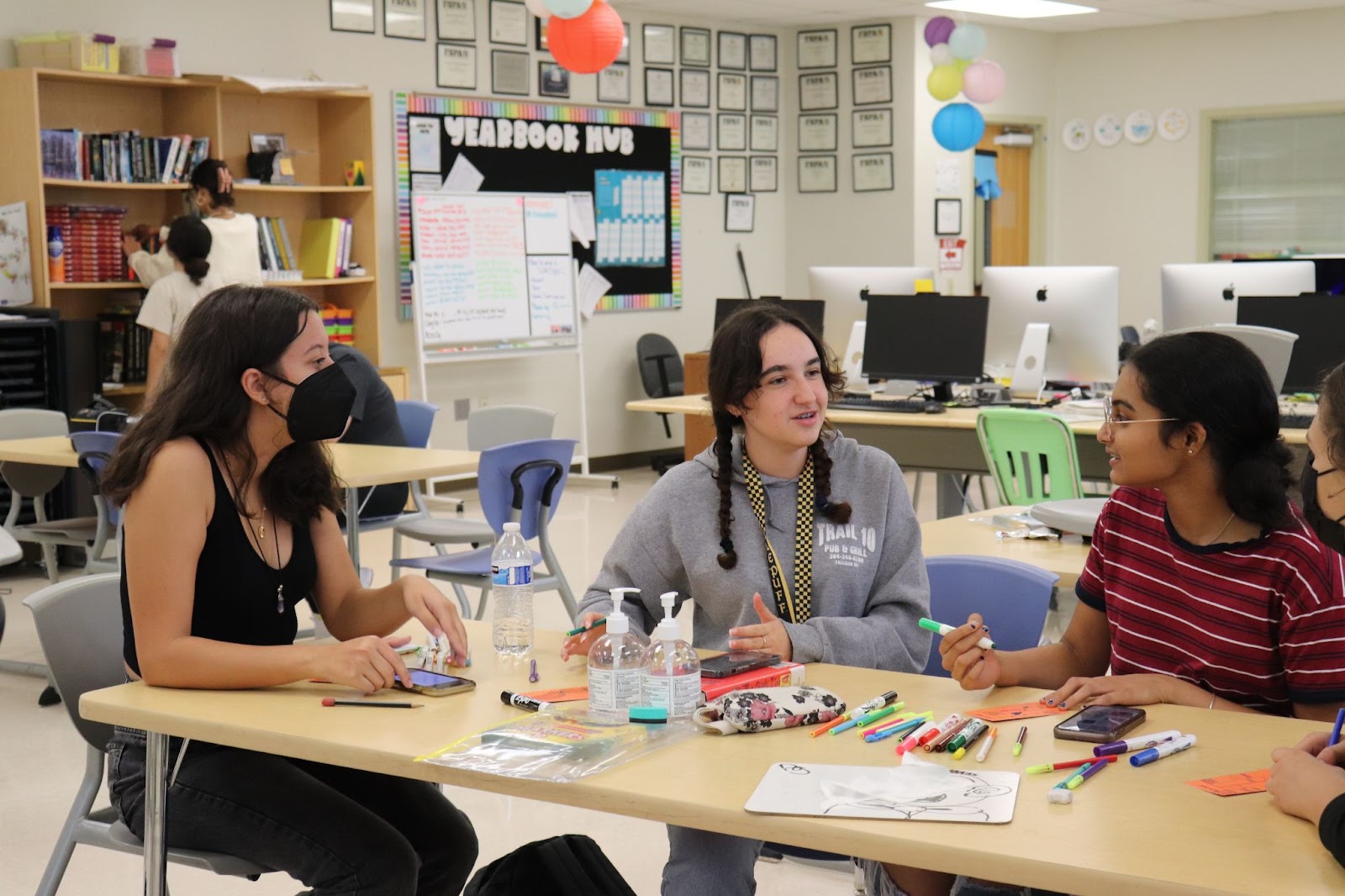 West Broward's book club creates a community of readers
Read Time:
2 Minute, 44 Second
BOOKWORMS: (left to right) Sophmores Savannah Anselmo, Isabella Adkins and Trisha Singh discuss the book of the month while making bookmarks. In its inaugural year, the book club hopes to help students connect over their love of reading. Photo by Erica Zuber
When English teacher and yearbook adviser Brooke Acosta noticed a growing interest in books with her students, she realized that starting a book club at West Broward would be the perfect way to help readers find a community of people who share their interests. At the Bobcat Book Club, students can discuss the club's book of the month, make friends and share their love of reading.
The Bobcat Book Club started just this year and has grown rapidly. The club is open to all readers, whether they are new to reading or are voracious readers. Acosta created the club in the hopes that students would find a place to enjoy a book and share their thoughts with other students.
"A lot of the student body enjoys reading as a hobby, and I think this will give them an opportunity to meet new people and find a common love of reading amongst peers," said Acosta.
The idea was introduced last year, when Acosta saw how her students connected with her over the books they read. The book club president, sophomore Savannah Anselmo, is a former student of Acosta's 9th-grade English class and was very involved in creating the Club.
"My expectations are to connect more people to books that they're genuinely interested in and to bring people together. I know in my experience last year as a freshman I made friends and learned skills through clubs and I hope to help others get those experiences," said Anselmo.
The club holds meetings twice a month, every second and fourth Thursday from 2:50 pm to 3:50 pm. Each month, a book is chosen from the Florida Teens Read list, an approved list of books by the state of Florida. Club members vote between two books of similar genres to choose the monthly read. During the meetings, members can participate in icebreakers related to the book, answer discussion questions and share their thoughts on it.
"I thought it would be a great idea to have a common place for students to come to read a shared book and talk about their experience reading it together," Acosta said.
The book club has positively impacted many students. At the club, students can socialize, discuss books and share their love of reading with peers. Students can connect over many activities, such as making a movie cast for the monthly book, an activity members participated in previously. Many found that the club has given them a chance to make friends who also enjoy reading.
"I joined book club because I wanted to get more involved while doing something I love, which is reading," said junior Mia Murrieta. "I love how the club is welcoming to all people and gives us all a safe space to enjoy reading while developing connections with each other."