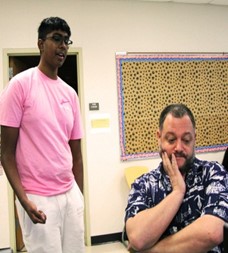 Computer Science teacher Matt Feiler is Teacher of the Year
Read Time:
2 Minute, 47 Second
CTRL + U: Matt Feiler, computer science teacher, assists junior Venuk Athauda with a coding homework assignment for his Object-Oriented Programming class using the web- site CodeHs. Feiler alone teaches over five different computer science classes with 300 students total. Photo by Valentina Padula
By: Valentina Padula
With society constantly advancing the technology of the world, computer science has become a vital profession within the career pool, and every year, more is demanded- ed of those who specialize in it. Computer science teacher Matt Feiler is someone who educates and guides students who show an interest in this field, and with his compassionate teaching style, he has been rightfully named the 2022 Teacher of the Year.
Feiler solely manages a variety of computer science classes during the school year. He teaches AP Computer Science Principles, AP Computer Science A, Foundations of Programming and Object-Oriented Programming. He is also the sponsor of the Girls Who Code Club and the Computer Science Honor Society. After being honored by the Class of 2022 valedictorian and salutatorian and winning the "Teacher of the Year" student superlative last year, he was in the running to receive the award by both student and administrative vote.
"I was honored last year by both the valedictorian and the salutatorians, and I got to speak for both of them," Feiler said. "My students also voted me Teacher of the Year, and I was chosen by three of our top seniors who were recognized at graduation, so I think that put me on the map."
Despite having over 300 students, he finds ways to nurture individuals who want to expand their interest in computer science and pursue it during college. Under Feiler's guidance, students who had never considered exploring the subject joined because of his methods and have gone on to study it further because of their experiences in his classes. His personal way of interacting with students goes even beyond those who are interested in this subject, helping many who want to pursue other fields after high school.
"Kids come to his classes just because he is the one teaching," said senior computer science student Nithin Jayan, who has taken Feiler's classes all four years. "I enjoyed the content of his classes because of the way he taught it and I developed a passion for the subject because of Mr. Feiler."
Feiler's popularity amongst the student body has resulted in a positive impact on both his own students and those on campus as a whole, creating a new interest for the techy subject in many. He ensures a broad spectrum is available for students with his different classes. With these efforts, he also believes that he has a responsibility to be as accepting and supportive of those around him as possible. Receiving proof of his im- pact on those around him, Feiler was proud to earn the Teacher of the Year Award and to see his effect on students throughout campus.
"I was incredibly honored with winning the student superlative, maybe more than the actual staff voting," Feiler said. "I think being recognized by the kids is just as im- portant as being recognized by the staff. Why? Because that is our job as teachers: to be there for the kids. What they think of you is probably most important."