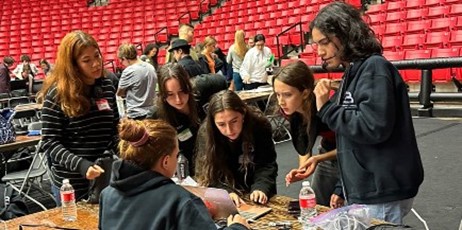 TV Production receives 17 awards at ASB 4-State Competition
DEADLINE: A group of TV Production students rush to edit their films before the deadline at the Academy of Scholastic Broadcasting Competition on Oct. 30. After three extensive days of filming and editing, the students won 17 awards. Photo courtesy of Laney Massa
By: Hannah Sosa-Brotman and Erica Zuber
Following a 27-hour bus drive, the 40 students from TV Production arrived in Missouri for the Academy of Scholastic Broadcasting competition. They spent their three days there filming and producing over 35 projects to submit to the competition.
The competition took place from Oct. 28 to Oct. 30 in Springfield, Missouri. It focused on broadcasting, and the students participated in 35 prompt competitions. They returned home with 17 awards, six of which were first-place titles. Some of the competition categories they won included a 5-second film, short film and sports roundtable.
"It honestly felt amazing to win so many awards because of all the hard work that we all put in, and we never gave up," said sophomore Alyssa Lorenzo.
Many students found the competition to be an important bonding experience. The trip mostly included students who were in TV Production I and II, who are newer to the program. These students were able to get to know each other better and become closer as a group.
"Missouri is known for the infamous 27-hour bus ride, and although you hear many complaints, it is actually one of the best parts of the trip because when you go on the bus, some of these people you do not really know, but when you leave and you get off that bus, you really do become a family," said senior Ayden Kostzer. "I got to become close with a lot of the newer members of the TV program."
For this competition, the students had to be creative and think on the spot in a very short amount of time. With many of their projects, they were given a prompt and only 6 hours to bring their ideas to life. Multiple student-led teams worked on the projects for the competition, allowing for equal opportunities to display their skills.
"I wanted to learn about how well they can get something put together in the time allotted. It cannot be perfect, but it will be good." said lead TV production advisor Chuck Rivera.
Out of the 35 films submitted, the student's efforts earned them 17 awards in the competition. They won four third-place awards, seven second-place awards and six first-place awards. Three films were finalists, one of which was in the hardest and most populated category, drama.
"I never really expect any awards. I do not really care about awards. I care about personal effects," said Rivera. "How good you can do, and how that can help you."