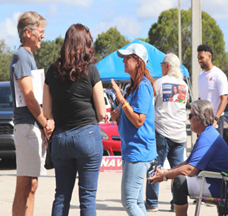 Changes soon to come after the 2022 midterm elections
Read Time:
2 Minute, 18 Second
PROMOTIONS FOR POLITICIANS: Voters prepare to promote their candidate's party as the election approaches. During the election, voters encouraged the public to vote for their candidate's respective parties through signs, public announcements and clothing. Photo by Sonia Gidwani
By: Sonia Gidwani and Gabriela Jimenez
With the end of the 2022 Midterm Elections, changes are imminent within the political world as the winning candidates prepare to hold office. In addition, nationwide party shifts are expected to come soon as key positions have flipped unexpectedly.
Among the turmoil, Florida Republican Governor Ron DeSantis maintains his position with a 19.4 percent lead over his opponent, Democrat Representative Charlie Crist. Additionally, Florida Republican Senator Marco Rubio surpassed Democratic candidate Val Demings with 57.7 percent of the vote and claimed the open Senate seat. The Senate now has a Democratic majority, while the House of Representatives has a Republican majority.
"We pride ourselves on being a liberal democracy. The only way it works is if people are actually voting," said Florida House of Representatives candidate George Navarini. These elections were significant in deciding the country's upcoming laws as seats flipped parties, such as a traditionally Republican Senate seat in Pennsylvania. Against the odds, Democrat Jon Fetterman won by 4.9 percent against Republican Mehmet Oz in a major Senate race. Another elected candidate was Maxwell Frost, who will be the first Gen Z member of Congress at age 25.
"People are ready to usher in a new era of politics that brings light on new issues people care about," said US History teacher Mrs. Cassia Laham. "If the older generations are reluctant to tackle important issues for the younger generation, the new generations must take the reins."
In Georgia, neither Senate candidate gained more than 50 percent of the votes, meaning a runoff election was held on Dec.6. Democrat Raphael Warnock was elected by 2.8 percent, securing the Senate seat for Democrats. This win ensured that President Biden could appoint judges nationwide without majority Republican opposition. Frank Gonzalez, a Florida voter, expressed his opinion on the importance of participating in elections.
"I came to vote because I believe if you do not, you are giving away your voice for what you want changes for," said Gonzalez. With Democrats winning the Senate, there will likely be legislation sent to Congress for approval to lower the cost of pharmaceuticals, protect Medicare, and codify Roe v. Wade. However, with the Republicans gaining control of the House of Representatives, the conflict between the two legislative bodies is expected.
"It is important for our generation to progress and implant ideologies into a system that needs improvement, progression, and input from the younger generations who will be the future," said senior Briahna Hill.