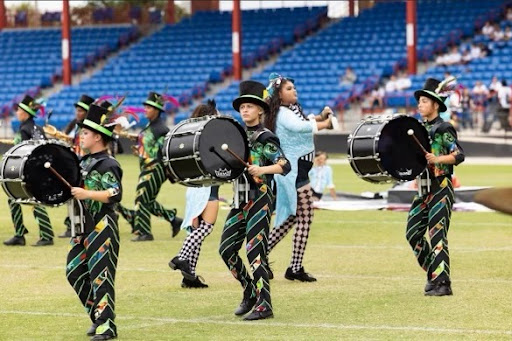 West Broward's marching band wins 4A state championship
Read Time:
3 Minute, 48 Second
REACHING THE TOP: The West Broward Performance Ensemble comes together one last time with "Reflections of Alice" at the FMBC State Marching Band Championship. Their production earned them first place overall. This was their third win in the state championship in 14 years. Photo by KVoorhees Photography.
By Sarah McPike and Mia Villegas
After going to Hialeah High School to compete and earn several awards in many different categories at the Showcase of Champions, the West Broward High School Band and Color Guard would follow up their success by capturing their third FMBC State Marching Band championship since their inception in 2008.
West Broward's marching band, led by Band Director Dean Calmer, competed at FMBC Regionals on October 29, where they scored second place overall and received several other accolades. They then competed at the Broward County stadium against four other marching bands with their production of "Reflections of Alice" on November 19.
Prior to regionals on November 19, the group first went to Cypress Bay High School to practice and be evaluated by the Florida Band Association, where they were awarded straight superiors for their music. Later that day, they went to Hialeah Senior High School to compete against other bands in the 4A category in The Showcase of Champions Regionals. There, they earned accolades such as first place in visuals, music, percussion, and general effect. They won second place overall. Captions are areas bands are scored based on and are then given awards if the judges feel their performance was the best in that category.
"We performed really well. In terms of scoring, you're mostly judged on your visual and on your general effect. So the choreography and moments you create in your show, and they can judge anything about the show they want with respect to those captions," Sophomore Drum Major Anthony Cieza explained.
From the last week of June to the first week of August, participating band students attended a series of biweekly practices with one break week in between at band camp. There, they began learning all the material for their upcoming show. In the early months of the year, Calmer sat down with Bill Muter, Shannon Berkstresser, Micheal Lao, Laura Gasper, and Josh Brenies to put together their ideas for the season's production.
"It all started with mirrors. So we said, 'Okay, what kind of show can we do with mirrors?' And Alice in Wonderland was perfect," Calmer explained.
   The next morning, the band loaded onto the bus one last time to head to Broward Stadium in Lauderhill, Florida. There, they unloaded their instruments and did marching and music warmups. The band went on to perform twice that day, once in the morning for the preliminary round, and then again for the finals. Bands are given fifteen minutes to set up, perform, and pack up. During the preliminary round, bands are judged on five categories, including percussion, color guard, general effect, visuals, and music. They are scored by multiple judges from different parts of the stadium, such as the field and stands. The five highest-scoring bands move on to the finals. After their performances, the band gathered on the field as they were announced the 2022 4A Florida Marching Band Champions, scoring a whopping 89.95. They scored the second highest out of all the bands competing.
"With a win as big as this one, it proves how far we've come, especially from last year," explained front ensemble member Jaiden Theodore, "it makes us confident in our abilities for further competitions such as nationals and the upcoming seasons."
   As the year progresses, this group will move on with performances and competitions. They will continue practicing for different upcoming events for separate groups, including Concert Band, Wind Ensemble, Jazz Band, Indoor Percussion, World Guard, and Guard, and in April they will perform their mosaic shows, in West Broward High School's auditorium.
Finally, marching band season starts again, and the cycle repeats. With the end of the marching season, the West Broward Performance Ensemble finished their performances of "Reflections of Alice."
"By the end of the season, you're going to look back and see this product that you've released to everyone in not only Broward County, but also across Florida and even on the national scale as well, and you're just going to say, "Wow, I did that," said Brenna Humphries.