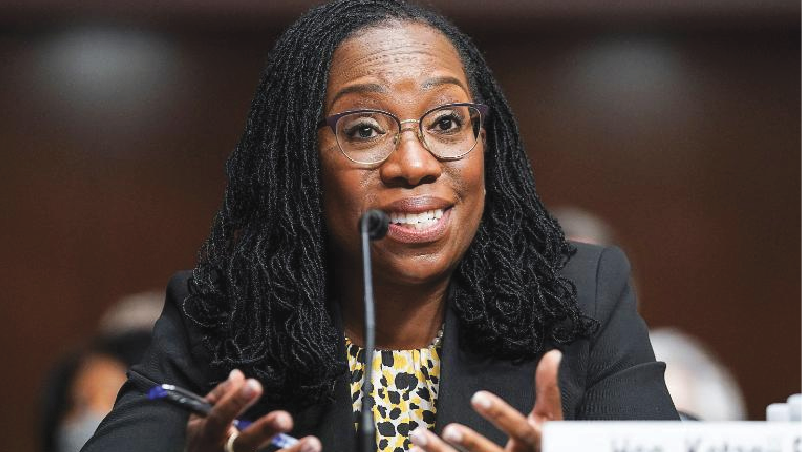 Ketanji Brown Jackson nominated to be the first Black woman Justice
Read Time:
3 Minute, 19 Second
MAKING HISTORY: Ketanji Brown Jackson testifies before the Senate Judiciary Committee in April. Jackson will become the first African-American woman to be appointed as a Supreme Court justice by President Joe Biden following retiring Justice Stephen G. Breyer. Photo courtesy of Getty Images
by Sonaiya Brown
Ethnic minorities serving as Supreme Court Justices is not as common in modern society as many would think. However, this will soon change as the announcement of Ketanji Brown Jackson, a proud Black woman, will be appointed by President Joe Biden to take the role of the ninth Supreme Court Justice.
Ketanji Brown Jackson will become the first African-American woman to sit on the Supreme Court. Jackson was chosen to replace the retiring Justice Stephen G. Breyer who served for more than 40 years after his appointment in 1994. Previously, all Justices were white until Thurgood Marshall was appointed as the first male African-American Justice in 1967 and sworn in by 36th President Lyndon B. Johnson. Within the jurist history of the Supreme Court, only 6 percent of the 115 justices were people of color, a woman or both.
"This is very important. This will now break the glass ceiling so now other women can now see themselves as Supreme Court Justices," said African-American History and U.S. History teacher Thewander Houston. "I am very proud of President Biden keeping his word to appoint an African-American woman because people were saying that he should not have put a point to promise that."
Ketanji Brown Jackson, 51, was born in Washington D.C. and grew up in Miami, Fla. She went to Miami Palmetto Senior High School. Before Jackson's appointment announcement, her career in the political world was more than prominent. She had received her degree in law from Harvard Law School in 1996 and worked as an assistant federal public defender in Washington D.C. As well as that, she has experience serving as three federal jurists, and a vice chair for the United States Sentencing Commission for four years. She has issued high-profile rulings as a district court judge, such as ruling against the administration of former President Donald Trump to prevent Don McGahn from testifying before Congress in 2019. Before the end of former President Barack Obama's first term, he nominated Jackson for a district court leadership position in Washington D.C and was later confirmed in 2013.
"I think Ketanji is a model citizen, she has gone through the experience to become a diverse person in the political field," said Human Relations senior president Ayana Willis. "The fact that she went to a high school within the general area of our neighborhood builds her appeal to us and makes her accomplishment feel in the reach of the students today."
The impact of Jackson's nomination presents a historic moment for the Black community where Black representation in federal government positions are sparse. With the long history of judicial decisions affecting African-Americans, Jackson's presence would help bring unification and diversity to the judicial system to people who cannot represent themselves and who have not had someone to represent themself in the past. Her main focus as Justic would be to shed light and defend the working class' civil rights and create better organization in the working community for minorities. Her powerful track record has received support worldwide, and passionate advocates have expressed their gratitude towards this monumental event as the first step into changing the perspective of African-Americans.
"I think it will have a positive influence on how African-American women feel towards acquiring high federal jobs," said Human Relations junior vice president Kalia Duncombe. "Not only will women feel more empowered, but people of color as a whole will finally have someone to represent the issues of our community."