COVID-19 puts a temporary end to sports
Read Time:
5 Minute, 33 Second
by Brandon Vasquez and Joao Lucas Argenta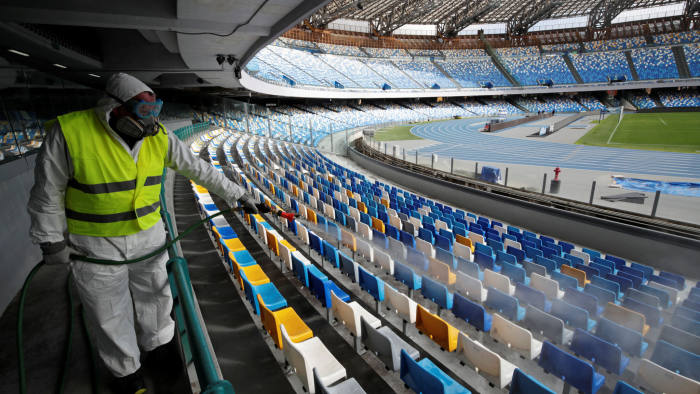 Throughout history, when tragedy has struck humanity, sports has always been there to fall back on and bring us together. From New York Met Mike Piazza's post-9/11 home run to the New Orleans Saints historical playoff run amid Hurricane Katrina, time and time again, we have used sports as a way to cope and even provide us with a sign of hope in the midst of catastrophes. However, the world is now in the midst of a tragedy like never seen before. As the rise of COVID-19 continues to spread, the greatest pastimes are now being stripped away from sports fanatics across the globe. And while the effects of this hiatus will lead to great withdrawals among the sports community, the economic effect may be just as
great.
The sports world first came to an abrupt stop when the National Basketball Association (NBA) became the first professional league to suspend its season on March 11. This news broke only minutes after it was reported by Shams Charina of the Athletic that Utah Jazz center Rudy Gobert tested positive for the coronavirus. It was reported the following day by ESPN's Adrian Wojnarowski that Gobert's all-star teammate Donovan Mitchell also tested positive for the virus. Since then, eight more NBA players have been diagnosed with the virus, including Brooklyn Nets superstar Kevin Durant and Boston Celtics guard Marcus Smart. Commissioner Adam Silver has discussed that there will be no way for the league to make a decision about when the NBA can return until May 1st at the earliest.
"I think there is still too much uncertainty at this point to say precisely how we move forward," Silver said. "I'll add that the underlying principle remains the health and well-being of NBA players and
everyone involved."
The National Collegiate Athletic Association (NCAA) followed the NBA by canceling all remaining winter and spring championships. This included all conference championship tournaments and the NCAA men's and women's basketball tournament, depriving the country of a chance to witness a new Cinderella team to take over the tournament this March.
Soccer was the next sport to be affected by the pandemic as La Liga, Bundesliga, Serie A, and Ligue 1 were amongst the major leagues in Europe to suspend play indefinitely. The Union of European Football Association (UEFA) also suspended marquee soccer competitions such as Champions League, Europa League, and Euro 2020 indefinitely.
As for Major League Baseball (MLB), the original March 26 "Opening Day" date has now been delayed, as well as the remainder of spring training being postponed. The National Hockey League (NHL) also suspended its season and has yet to determine if or when the Stanley Cup Playoffs will take place.
Another notable event that has been affected by the coronavirus is the Tokyo Olympics, which have been postponed until 2021. Wimbledon, tennis's most-viewed tournament, has also been canceled for the
first time since World War II in 1945. Golf's first major tournament of the year, the Masters, has also been postponed, as well as the 146th Kentucky Derby and The Tour de France.
However, athletes at the professional and collegiate level are not the only ones being affected by this pandemic. Millions of high school student athletes across the country have also had their seasons stripped
away from them, in spite of the countless hours they have put into practicing and training. Although the cancelation of high school sports will have no financial impact, memorable events such as students' final
home games, rivalry games, and last chances to claim district or state titles have all been taken away due to the virus.
"It breaks my heart knowing that I'll never be able to step onto the field again in high school," said senior softball player at West Broward High School, Kayla Tosone. "As a senior, this was my last chance to go out and help my team win another district title. My teammates and I have worked so hard to improve every single game, and for us to not even have the chance to be rewarded with a 'Senior Night' is devastating for all of us."
As for associations that will be financially affected by the pandemic, The NCAA will be taking one of the strongest impacts due the cancelation of their "March Madness" tournament. The association collected more than $1.1 billion last year, with more than $1 billion of that coming from major events, television and marketing fees. The NCAA is now guaranteed to miss out on tens of millions of dollars in ticket sales. The NBA is also expected to take a major financial hit due to lost revenue from their television contracts, as well as losses from ticket sales. Not to mention that the tens of thousands of people who work for sporting events will also be severely affected by the cancelation of play. Even after
play resumes, leagues and organizations across the world will still be affected due to the unknown equation on when fans will be able to return to stadiums and arenas.
While the sports world is usually able to thrive during tragedies, they are now suffering from the effects of this global pandemic. And while the financial aspect of this crisis is severe, the burden of millions of sports fans hoping for something positive out of this tragic time is just as impactful. In the midst of all this uncertainty on whether sports will return in the coming months, all fans can do now is remain hopefully that their beloved pastimes will soon return stronger than ever.
"I'm always pretty optimistic about everything," said NBA superstar Lebron James. "I feel like it's always greener on the other side of the fence. I believe that this is a roadblock for all of us, not only as Americans, but for the world. It's a test of our mental side, our spiritual side, it's a test for everything. We had grown so comfortable with how we live our life and everyday life that it's now time to take a pause. I'm very optimistic about not only just basketball, but sport. It's not just about the Lakers. It's not just
about the NBA, but it's everything."