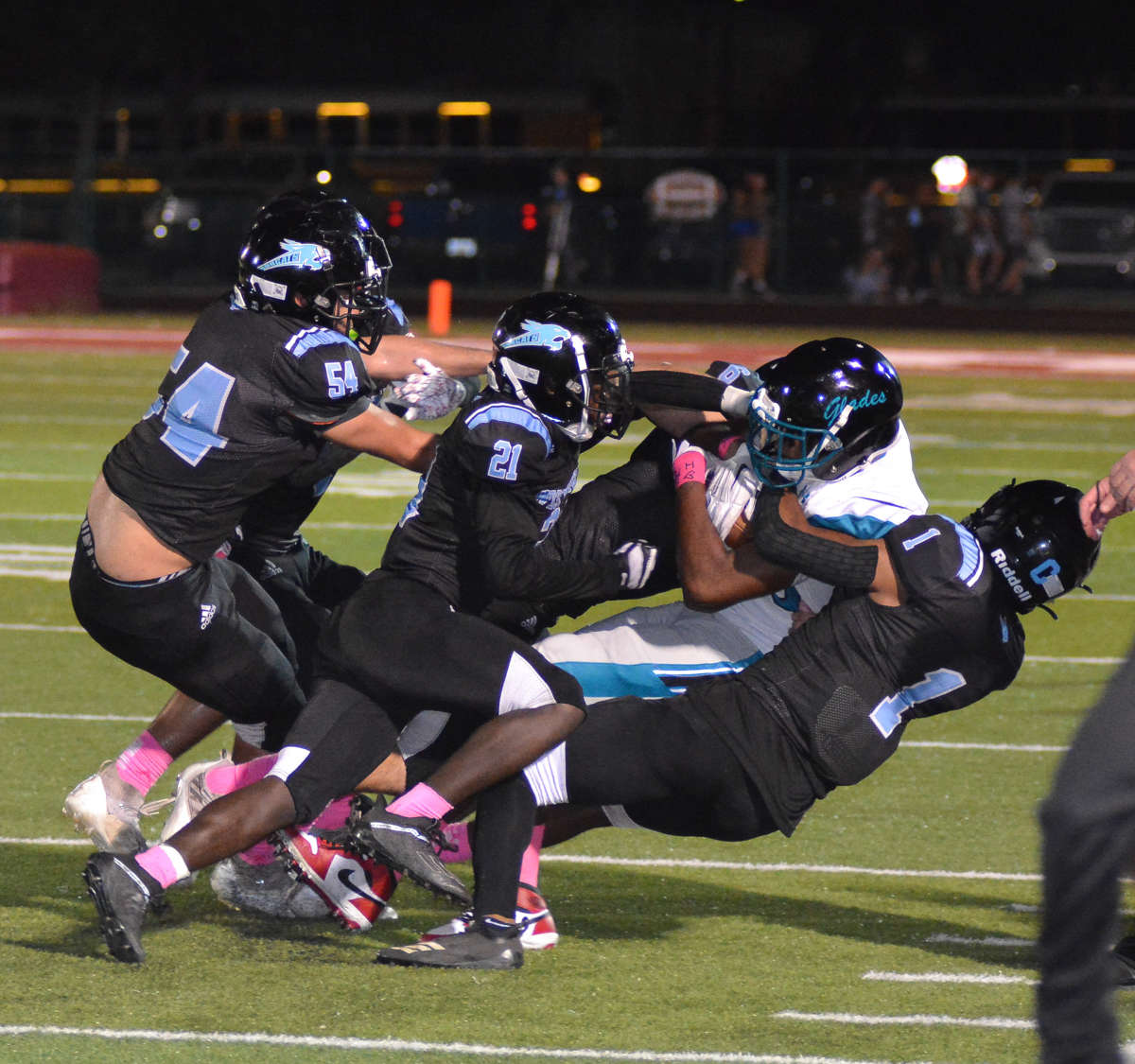 Bobcat football continued  to fight through a tough 2021 season
Read Time:
5 Minute, 30 Second
DOWN FOR THE COUNT: (left to right) Defensive End Diego Graham, Cornerback Justin Dupree, Wide Receiver Isaiah Richardson make a position tackle on a Glades Running back despite overcoming a three-touchdown deficit in the first half, where Broward would come up short in their homecoming game against Coral Glades of 27-21. Photo courtesy of Camila Gomez 
by Armani Brutus
With the 2020-21 football season being cut short due to COVID-19, the Bobcats only played four games and finished the season with a record of 2-2. Now with a full schedule of games, the team was working hard to change the outcome of last year's misfortunes.
As the 2021 campaign progressed, the Bobcats would see moderate success and would finish the year with a 4-5 record. The team is led by captains senior quarterback and tight end Nick Scandizo, senior receiver and safety Isaiah Richardson, junior defensive tackle Jude Roman and sophomore middle linebacker Carlos Morales. The Bobcats would improve in 2020 and look to the future with high expectations.
"We have played games with a lot of different teams, knowing that we are young," said Head Coach Brian McCartney. "I knew that we would build a strong team, a tough team, and we are going to fight in every game."
Kicking off the 2021-2022 school year on Sep. 3, the Bobcats dominated their first game of the season with a resounding victory against South Plantation, 23-0. On the offensive side of the ball, the Bobcats controlled the game with a strong running attack that would gain 131 rushing yards from Gabriel Marcius and Nicholas Piton and one touchdown each. As strong as the Bobcats were on offense, they were stifling on defense. Led by senior cornerback Ryan Colon, with three tackles and a deflection and senior receiver and safety Isaiah Richardson who had an interception with two tackles. In total, the defense would garner their first shout out of the season with eight tackles for a loss and 4 sacks.
"Our game plan was really to get the experience of our younger guys, getting a lot of film, tape and them ready for next year and the following year," McCartney said.
The Bobcats would go down in defeat against Cypress Bay 10-7, South Broward 21-10 and Flanagan 14-6. Coach McCartney believed inexperience was the problem.
"They had 25 seniors. Then we lost to Cypress in the last minute and 30 seconds and that hurt all of our hearts at West Broward," McCartney said. "When you lose a game that close, just a little bit of experience goes a long way."
Bouncing back from the losing streak on Oct. 7, West Broward earned their second win of the season as they dominated Taravella, 49-3. In the fifth game of the season, the balanced attack of the offense kept Taravella guessing all night long. Sophomore quarterback, Jonathan Morillio, went 12-16 for 217 yards and one touchdown. On the ground, sophomore wide receiver Handsome Coleman rushed for 104 yards and 4 touchdowns and added 54 yards on 4 receptions. Senior defensive end Jacob Carro would stand out with 6 tackles, 2 sacks and 2 blocks .
"Our kids are just resilient. Our kids always keep fighting, getting better, working harder to try to get better, " McCartney said. "And when they went into Taravella, they smacked."
On Oct. 7, the Bobcats would not be able to celebrate their homecoming game as they dropped a tight one to Coral Glades, 27-21. The Bobcats fought back against a 21-0 defeat before falling to the Jaguars. Keeping the game close, Richardson would net 86 receiving yards and a touchdown on only 3 receptions. Defensively, Richardson had 12 tackles with 1 forced fumble and deflections. Despite the loss, Richardson believes the progress of the team was improving.
"Working with the team beforehand all through summer and bonding with them and being able to make plays for them to make plays for them lead to the team's success," Richardson said.
Going into the game against Pembroke Pines Charter on Oct. 22, the Bobcats would shut out the Jaguars 29-0. Once again, Morillo would lead the attacks amassing 431 yards of total offense. Morillo passed for 354 and four touchdowns, completing 16 of 29 attempts for 343 yards. Richardson would have another great game with 135 receiving, a touchdown and 9 tackles with an interception on defense.
"It all started off with my offensive line. They gave me enough time to go through my reads and hit my receivers," Morillo said. "My receivers also made it easier for me by having no drops the whole game."
To conclude the season, the team would defeat McArthur in a close game of 9-7. The Bobcats staunch defense led by Morales had four tackles and two interceptions and senior outside linebacker Teddy Alatzas finished with 6 tackles, one for a loss of yardage. Closing the season off on a win, the Varsity team would look forward towards districts for the 2022-2023 season.
"I am looking forward to all the sophomores coming back and the culture," McCartney said. " I am looking forward to selling out games for West Broward and really building the Bobcat nation."
The players along with the coaching staff had specific goals this season, including districts that were not quite met, but they were able to meet their smaller goals along the way.
"I was kind of bummed out that we lost a couple of close games, but where we were, where we started to where we finished, we did very well," McCartney said. "We had 15 sophomores playing last year, we got a lot of experience and got better, so I am very excited for next year."
READY TO RECEIVE: (left to right) Sophomore Receiver Brandon Armenteros sets up to receive one of his receptions from quarterback Jonathan Marillio against South Plantation with Kevin Smith. In the opening game of the season, the West Broward Bobcats would defeat the Paladins by a score of 23-0. Photo courtesy of Toya Figuerio
One-on-One (A healthy tackle/sack) (: 21 closes in and takes down the Jaguars running back during their West Broward homecoming game against Coral Glades. Photo courtesy of Toya Figuerio