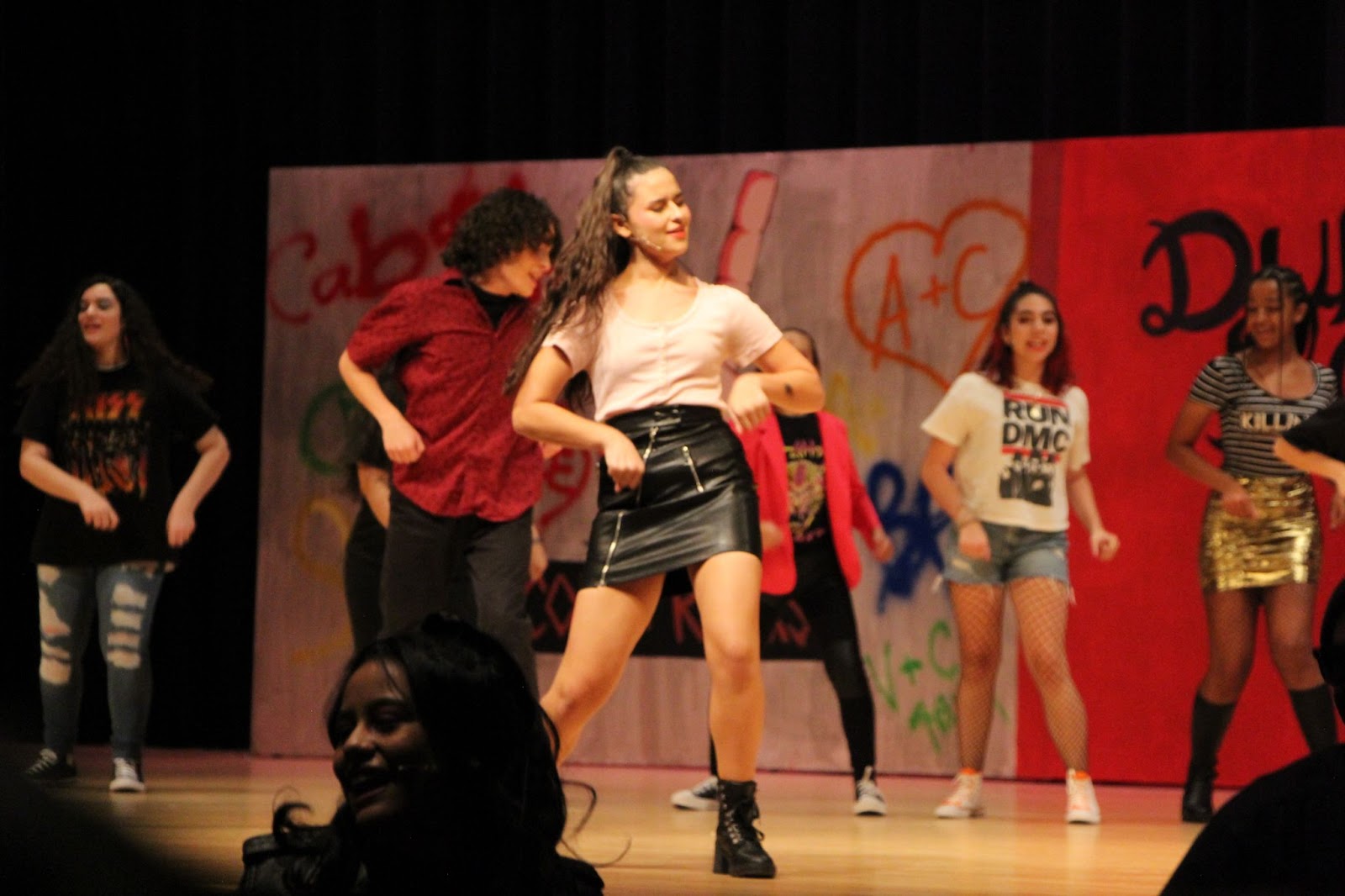 The drama program "rocks on" during this year's winter production
ROCK IT OUT: Freshman Isabella Rodriguez dances with the rest of the cast to Journey's "Can't Stop Believing". Musical Theatre I's production of "Rock of Ages" was performed Jan. 13 and 14. Photo by Sarah Perez
by Sarah Perez
The ending chord of an electric guitar rings through the auditorium, surrounded by the 80's rock embellishments scattered around the stage. The audience rocks out to universally-loved ballads while drama's Musical Theatre I class performs "Rock of Ages."
This year's performance from Drama director Amy Nesmith's Musical Theatre I class is "Rock of Ages", a jukebox musical about Drew, played by freshman Garrett Carr and Sherrie, played by freshman Isabella Rodriguez. The plot of the play begins when Drew and Sherrie try to become famous after moving to Los Angeles while working at the Dupree Room, a rock-style music venue. Managed by Dennis, played by freshman Anthony Cieza, the Dupree Room is in danger of shutting down and being replaced with a strip mall. The production was performed on Jan. 13 and 14 in West Broward's auditorium. With humorous narratives of self-awareness towards the audience and heart-warming scenes between characters, the production turned out to be a success.
"We had a lot of fun and we could see the audience having a lot of fun," said freshman Rocky Grosman, who played Lonnie. "I can guarantee you there is nothing like 'Rock of Ages'."
The production also highlighted not only the students' abilities but teachers' as well. The beginning of the show featured an electric guitar duet played by history teacher Frank Turturici and freshman Sophia Dillena, who also played Ja'Keith, Drew's manager. The idea of having such a feature came from both Dillena and Nesmith when Dillena had informed Nesmith that she was able to play the electric guitar.
"We thought it would be really cool to have a live performance to open the show, really adding on the 'rock' feel," Dillena said.
The show was choreographed by senior Gracie Kaye who, in Nesmith's Musical Theatre II's class, was asked by Nesmith to do so. Not only did she choreograph, but she participated as a cast member in the ensemble.
"Nesmith needed somebody who was going to help out and she said that I was her first choice," Kaye said. "I was really happy and grateful that she had chosen me to have the role as a choreographer."
Another interesting element in the show was participation from the crowd. Students in Nesmith's Musical Theatre II and III class were able to volunteer to hand out protest flyers that coincided with the scenes in the production and rush to the stage when Stacee, played by freshman Eric O' Neal, performed at the Dupree Room. The audience was delighted by the immersive aspects of the show.
"I knew 'Rock of Ages' would be something that the audience would really grasp," Nesmith said. "We did smaller shows last year and I wanted them to do something that they could embrace."
After this successful production, the drama program plans on performing "Hello, Dolly", played by the Musical Theater II's and III's on March and April. The dedication of the Musical Theater I's was prevalent, as was the fun they had during the performance of "Rock of Ages".
"When joining Musical Theatre, I was expecting to do shows, but I did not think it would be as cool as this," Grosman said.
DANCING FEET: Freshman Rocky Grosman, who plays Lonnie, has a dance solo during the finale number of Musical Theatre I's production of "Rock of Ages." Lonnie, the narrator of the show, had provided the audience with comedic asides littered throughout the show. Photo by Sarah Perez