"Our Place" sparks emotional atmosphere for audience
Read Time:
3 Minute, 15 Second
by Valentina Padula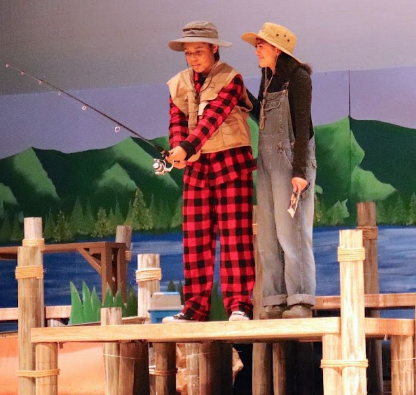 REMEMBER ME: Sophomore Salma Yearwood (left) fishes at the dock next to senior Aaralyn Reed. Reed played as Beth in this heart-wrenching act where the young girl struggled to get her Alheizmer-ridden father Jonathan, played by Yearwood, to remember years of fishing memories between the two. Photo by Valentina Padula
Creating impactful scenes while also providing a contrast of comedic relief, the drama club's fall production "Our Place" took its audience on a rollercoaster of emotions throughout its many acts. The cast, excited to put out such a captivating production, put on a show that left its viewers spellbound.
Led by Amy Nesmith, drama and musical theatre director, the actors were split into an A and B cast that performed on Nov. 4 and 5 and Nov. 10 and 12 respectively. "Our Place" consisted of differing experiences and accounts on a dock, where some experienced heartbreak, grief or a coming-of-age crisis.
"'Our Place' is about this dock in the middle of nowhere that has little stories about how this place is special to different groups of people," said senior drama co-president Gracie Kaye. "It is really crazy to see the contrast between the different stories and how each person feels like it is their own special place."
The cast began their rehearsals on Sept. 13 and within two months, they perfected their individual performances into an enthralling show that featured both music and acting. Putting the production together took not only memorizing lines from all cast members, but also prop and tech design from behind the stage. Students set up the stage to have a wooden, encompassing dock with a mountain lake view on a backdrop where the lighting was changed accordingly for each act. Days before A cast's showtime, "Cory", played by sophomore Enrique Borja, expressed his pride in his fellow castmates.
"We have put in a lot of work; the design is beautiful and the tech is doing a wonderful job with the props," Borja said. "In one scene, we have even managed to get an improvised stretch to make the scene more realistic where one of the cast members has to fall onto a mat behind the stage."
Nov. 12 concluded the drama club's fall production, and the winter season will soon be taken over with the Musical Theatre I students' show, "Rock of Ages". Drama's spring season will consist of a full production of "Hello Dolly", played by students in Musical Theatre II and III. Proving to be a hectic time, students also competed at the Thespians Competition on Dec. 4 and Mar. 16-19 respectively, where they will compete in the acting, dance and stage design departments.
"I am putting together a large group and we are going to be learning a dance and song from a musical," Kaye said. "We have to make sure our little showcase gets done because we get to be judged. We also get to see other performances which are super exciting."
"Our Place" performed at Cypress Bay High School and won multiple awards, including Best Ensemble and Best Featured Actress and Actor for seniors Jacquelynn Arias and Zachary Morris. Kaye won All Star Cast Member for her performance, along with Stephanie Quintanilla for All Star Crew Member.
   "I am really proud of the performances at Thespians," said sophomore drama student Angelica Ramos. "It is amazing to see these people getting recognized for something they loved doing."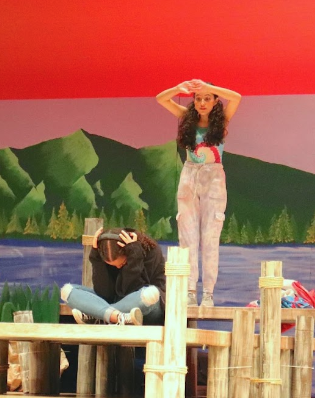 LEAVE ME ALONE: Stanley (left), played by sophomore Angelica Ramos, attempts to shut out his little sister, Sidney, played by sophomore Vanessa Montoya. This act played out a heartbreaking scene featuring a surly teenage boy, his pestering sister and a sudden death. Photo by Valentina Padula