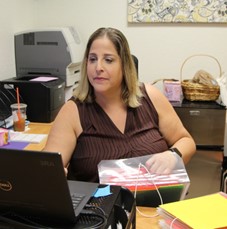 Tesser goes from TV Production to testing coordinator
Read Time:
2 Minute, 31 Second
HELPING HAND: Jodi Tesser flips through student files and works on her laptop in the Guidance Office. Although Tesser has taught TV Production for ten years, she has always been a helping hand when it came to preparing for student testing. Photo by Sonaiya Brown
By: Sonaiya Brown
After working in the TV Production field for over 10 years, Jodi Tesser made the switch to become the new testing coordinator following the leave of the previous holder, Ariana Lozano. Tesser was appointed to take over for the 2022-23 school year and already has plans for student testing.
Tesser has started her 19th year of teaching, and since her entrance, she has primarily worked as a TV Production and 3-D Animation teacher, winning awards across the country for her students' creations. The transition from running the morning announcements to now running the testing schedule comes from a background in assisting Lozano with her duties. After Lozano was awarded a district-level position, Tesser took the opportunity to take over the position on campus.
"I have always helped with testing every year and when the opportunity came last year that Ms. Lozano was awarded a job in the district for the testing coordinator position, I was asked if I wanted to take over her job as a testing coordinator." Tesser said.
In the TV field, she assisted with running WBTV and took her students to multiple national competitions where they made a name for themselves in the broadcast world. The difference between her former job and her new position is not being able to see students on a daily basis. Instead of being responsible for students on her roster, she holds the responsibility of over 2,500 students until their testing requirements are complete.
"Even though I have children pop into the office to ask questions about assessments, the biggest difference is not being able to see students on a daily basis," said Tesser. "It went from being responsible for the number of students on my roster to over 2,500 students to ensure they are up to date with what is needed for graduation."
The role of a testing coordinator has multiple challenges, the most important being for students to complete standardized testing requirements for graduation. Tesser has plans to coordinate Florida Assessment of Student Thinking (FAST) ELA , all EOCs, AP, Cambridge and SAT testing throughout the year. Recently, she has been preoccupied with scheduling retakes for students who are new to campus or did not have the opportunity to test last year. Preparing these exams requires detailed preparation for 1,500 stu- dents, including scheduling students in their appropriate rooms and running administration chair reports for teachers to meet their students' needs.
"My goal is to be at 95 percent or above with students present for their assigned test that they need this year,'' said Tesser. "I am very honored that I was chosen for the testing coordinator position and I hope that I can make West Broward High proud."