Florida schools reopen following CDC guidelines
Read Time:
5 Minute, 27 Second
by Madison Peller and Allison Keppinger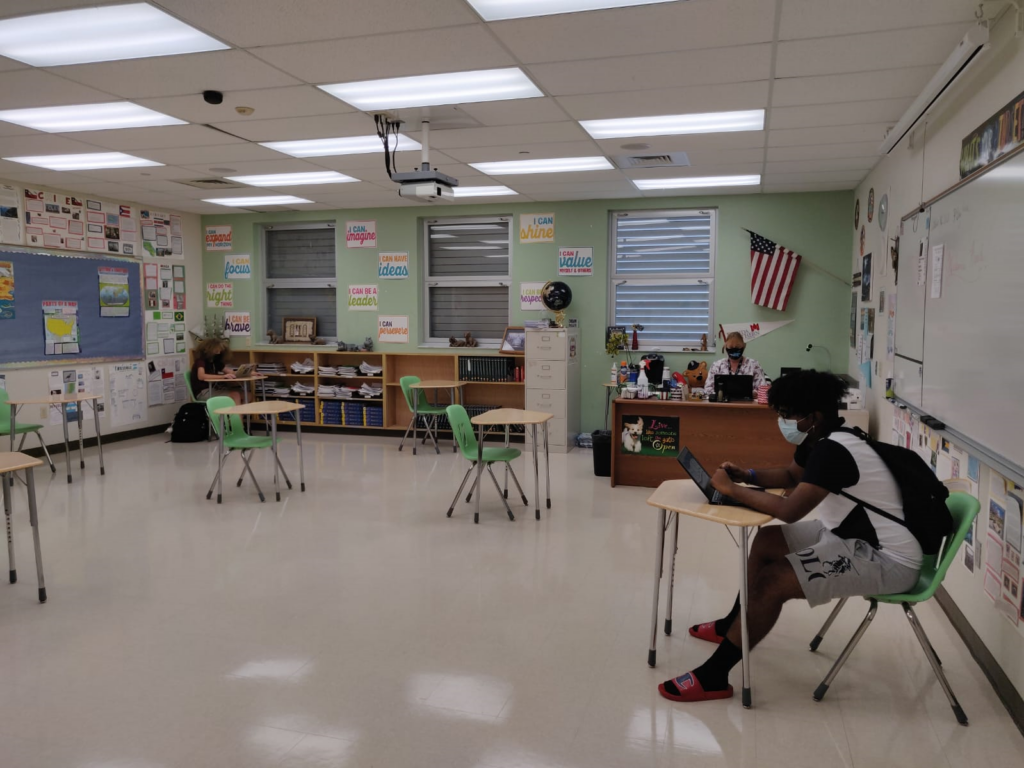 Since COVID struck in March, schools have shut down and students have relocated to online learning at home. Students and staff have been doing E-learning since Mar. 13, but some students have returned to school as a result of Broward County Public Schools reopening on Oct. 9. Students were given the choice to go back and do E-Learning in the classroom, or to continue to do E-Learning at home. The main concerns held by many in the country revolve around the ability of students to adhere to safety rules and avoid infection.
All of the schools in the state of Florida chose not to go back to in-person learning in August and instead are reopening schools during the month of October. For pre-k, kindergarten, first and second grade as well as special needs students, schools are reopening the 9th. For third, fourth, fifth, sixth and ninth grade students, schools reopen on the 13th. For seventh, eighth, tenth, eleventh and twelfth grade, schools reopen on the 15th. In order to keep the students and staff safe during school hours, there will be many precautions set in place in order to provide optimal safety for everyone, such as mandatory masks, limited numbers of students per classroom and one-way halls with stickers on the floor to promote social distancing.
"Even though I feel the district opened schools too early for in-person learning, I do like that they staggered the days for students to go back. It made it easier for the administrators to manage students and figure out schedules and procedures," said Pembroke Pines Elementary School kindergarten teacher Denise Soufrine.
As students and staff began to attend school in person, sanitizing stations, sneeze guards and stickers on the floor, indicating where to stand and which direction to walk, are the first sight that they see when entering the building. Students are required to wear a mask throughout the day except when it is lunch time where they are free to take them off while eating. During lunch, there is a limit of three people per table and tape on each seat to indicate where to sit with proper distance.
"Everyone enters the cafeteria with their masks on and sits down six feet away from everyone, and when we are eating, everyone takes off their masks until they are done. They also wipe down the tables and we use hand sanitizer just in case," said sophomore Tiffany Sommers.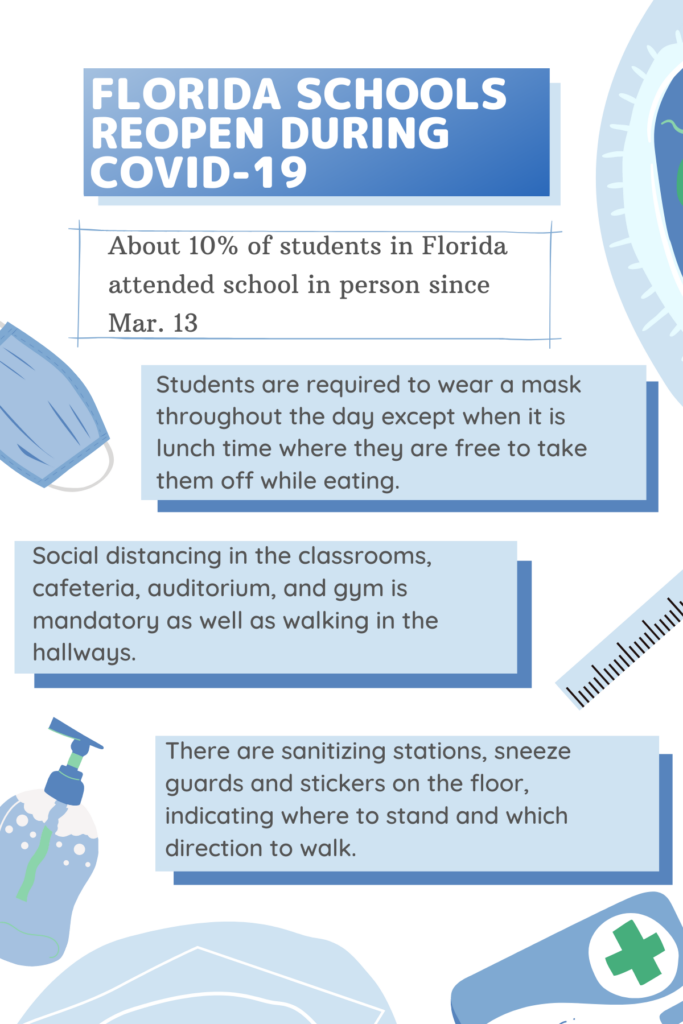 In the classrooms, the desks are six feet apart and there is a limited number of students allowed in the rooms, depending on the square footage of the classroom. In most cases, there is a maximum number of ten students allowed and the overflow goes into another teacher's classroom, the auditorium, or the media center. There are only two students allowed in the restrooms at one time and more entry ways have been made for entering the school and dismissal to avoid large masses of people.
"The precautions are keeping children at a room capacity by checking the square footage, and in the hallways they are putting stickers on the floor," said Soufrine.
There are about 37% of students going back to school as of right now, but the exact number is still fluctuating. A main reason why some students were eager to go back to school is because there are too many distractions at home, such as the urge to lay in bed or use their phone during class. Some students had to go back because their parents work and they do not have anyone to watch them during the day. Online school has caused students to be on their devices all day without the interaction with their teacher, ability to sit at their desk and interact with their peers.
"I really prefer in person learning because I feel it is important to have that interaction with not only your classmates, but with your teachers," said freshman Emily Garica.
Most students chose not to go back into in-person learning because it is too much of a risk for themselves and their family, especially if someone in their family is high-risk. There is also a lot of flexibility that students have while being home. Students can manage their time easily and can work on their assignments as they please. It also allows them to travel and take their laptop with them and do online school wherever they are.
"The thing I do not like about online learning the most is that being at home and having to learn online, there are so many things that are surrounding you that can distract you and it can really hinder the learning experience," said freshman Caleb Cortes. "I will not have things surrounding me to distract me, I can easily pay attention to the teacher and I can just focus on the subject and topic much more easily."
These changes will need some time to get used to and everyone must be responsible in order to keep everyone safe. Oct. 13 was the first day that students returned back to school, with the possibility to have them sent back home if all did not go well. The decision is still very controversial to many students, staff and parents.
"Right now, I would prefer to teach from home and teach my kids from home because I do not think my students will understand and I think that it will be more harmful for them to come back," Soufrine said