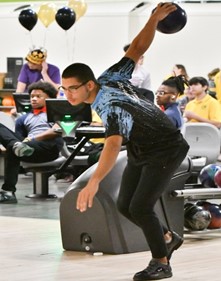 Andres Molinary's fifth-place finish at regionals earns him a spot at states
SENIOR NIGHT: Andres Molinary winds up to bowl his ball down the lane during his senior night on Oct. 18. Molinary would go off to districts, regionals, and states. Photo courtesy of Fox Mar
By: Madison Peller
West Broward's bowling team began competition in 2020, and while they are fairly new, they have made many strides at the district and regional level. One Bobcat bowler, Andres Molinary, would become the first in West Broward history to qualify for state competition in Orlando, Florida.
With Molinary's lucky Saint Prayer Card in his pocket during each match, Molinary was given the opportunity to become the first Bobcat to go to states for bowling, but injury would prevent him from competing and performing at the level he knew he was capable of doing.
"It feels really good to have gone to states. In reality, I did not expect it because I had thought that more people would have made it to the state level, but it is an experience that will remain with me for the rest of my life." Molinary said.
Molinary first came to West Broward in 2021 when he was a junior, and decided to join the bowling team in his senior year. He first started bowling when he was just eight years old in Venezuela and he took the opportunity to take his sport more seriously when he noticed his school's team.
"When I saw him throw a ball, I knew that he had the talents that his brother, who is on the international world tour, has. It runs in the family and his father bowls as well." West Broward's bowling team coach Lisa Bruce said.
Led by Bruce, his team practiced once a week on Saturday for two hours. During this time, they were able to prepare for a higher level of competition. With this being Molinary's first year on the team, he was able to learn a lot, not only with bowling but with his English as well. Since he has only been living in the United States for a few years, he struggles with his English, but his team was able to aid with that.
"Getting to meet all of the people on the team was a great experience. They helped me learn more english because I did not have a way of understanding anyone, I was able to start speaking more English." Molinary said.
On Oct. 20 at Sparez Bowling in Davie, Florida, Molinary played in regionals and earned himself a fifth place spot with an average score of 210 in three games. He had to wait twelve hours to find out if he was eligible for states. After qualifying, he went off to Orlando, Florida, where he was set to play against around 80 other students. During his time in states, he suffered an injury to his finger, and unfortunately, he got eliminated and could not play for the majority of the time. During the time he did play, he averaged 140 in four games.
"I did not do very well in the competition because my thumb was injured, so I could not play as well as normal. I got injured by holding the ball too tight and the constant rubbing slowly cut through my skin, but I really enjoyed the competition. There were a lot of excellent bowlers." Molinary said.