West Broward nominates this year's boys soccer All-Stars
by Sarah Perez, Izabella Perez, and Tadhg Holder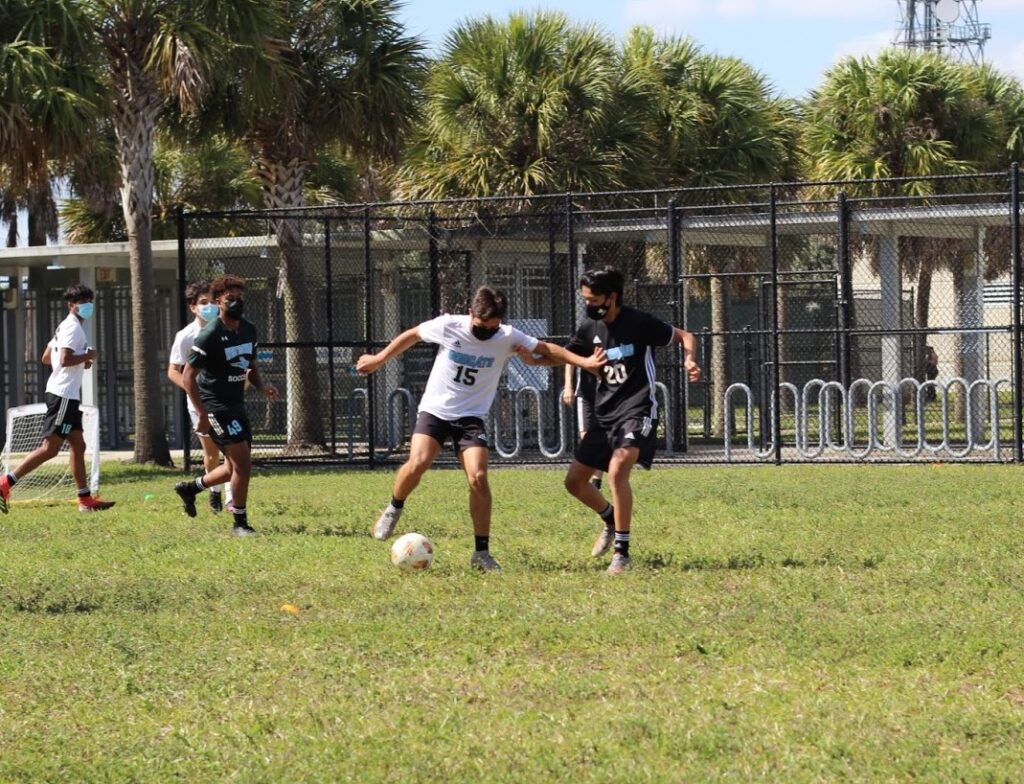 The key to a truly successful team lies in the players. Their attitude and determination can make or break the cohesion of the team. However, some athletes not only play incredibly well, but their good attitude can bring a team together, and whose sheer willpower can inspire others to succeed. Every year, these players selected around the county are invited to be part of an All-Star Team. This year, those athletes are Ethan Centino and Carey McLeod.
All-stars Ethan Centino, center back player, and Carey Mcleod, midfielder, lead West Broward to victory in the first playoffs game in the 2021 season.They were both chosen as All-star players for their exceptional skills and effort towards their team. Three factors are considered when choosing the latest All-Stars: leadership, on-field performance, and academics.
"Their work ethic and how they lead by example definitely inspired the team," said head coach Juan Diego Estepa. "Their effort level noticeably reverberated throughout the team improving everyone as a whole."
Starting at a young age, Centino immediately fell in love with the sport. He continued to play and develop his career throughout the years while playing center back for his teams. With a natural competitive spirit and years of rec and travel soccer under his belt, it only made sense to nominate Centino to be an All-Star for this season. A variety of different components work together to keep Centino motivated to keep going.
"I love the sport and the bonds I make with teammates and coaches," Centino said. "I am also very competitive so I continue to work to be even better than I was."
Being chosen as an All-Star of a sports team is not only a huge accomplishment for the player, but also shows the character of the person being named. This year's next Soccer All-Star is senior Carey Mcleod.
"Carey was chosen because of his work ethic and unwavering attitude he displayed on the field and with his teammates off the field," Coach Estepa said.
With a father always pushing him to exceed expectations and push forward, McLeod has been playing consistently since he was four. Playing for the school's soccer team for three years as a center midfielder as well as outside of school for his club team, he has been able to build up a steady stream of achievements from winning tournaments to being named All-Star for the latest soccer season.
"Since I was four I have been playing soccer," McLeod said. "My father motivates and inspires me. He always pushes me to do better."
This year's season was especially difficult due to setbacks from COVID-19, but the players persevered and were able to play six games against multiple high schools. The team won against Miramar High in the quarterfinals, the score being 1-0.
"I love playing for the school and fighting every game," Centino said.
Both all-star players have been made examples to their fellow teammates during their high school careers. Both were invited to play in a game with their fellow All-Star players at the Inter Miami Stadium on Mar. 9, winning 4-1. Although only Centino plans on continuing to play soccer after high school, both athletes will continue to strive with the leadership skills and drive they have built for themselves on the team.
"There is a quote that I try to live by: 'One year from now, you are going to wish you had started today,'" said Centino. "It reminds me that the best time to get to work or to better myself is always right now."