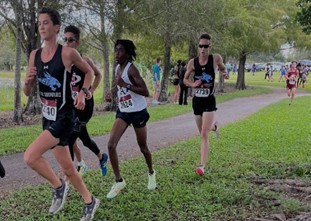 Varsity Cross Country teams end season at regional competition
RACE PACE: During the Oct. 6 meet at Markham Park, junior Carson Tolbert and senior Stevan Sawyer race past opponents. The varsity runners train rigorously throughout the season to showcase their abilities at the competitive meets. Photo by Mariana De Jesus
By: Mariana De Jesus
As summer conditioning begins towards the end of June, both the girls' and boys' cross-country teams prepare rigorously for the intense 5K races that await them. Hours of countless miles and challenging workouts contributed to the team's success in the 2022 season.
The teams finished the season with races at the district and regional levels. Following the District Race at Markham Park on Oct. 19, both teams successfully qualified for the regional competition that took place on Oct. 28 at South County Regional Park. Despite a challenging season accompanied by a loss of practice time due to unpredictable Florida weather and unanticipated injuries, both teams displayed resilience and competed at the meets to the best of their abilities.
"Two weeks before Districts, we lost our #1 boys' runner due to an injury; however,our boys team stepped up and finished 5th at Districts, qualifying for Regionals, and our girls also qualified for Regionals by placing 7th at Districts," said head coach Ben Hodgers. "While both teams unfortunately didn't qualify for the state meet, it was still a really good year, especially with all the new runners we had."
The runners show their dedication to the sport by working hard to earn personal records and obtaining as few points as possible to ensure a high placing. The girls' team finished with a score of 152 points, leaving them in 7th place and qualifying them to compete at the regional level. After the boy's district race, the team earned a total of 129 points, putting them in fifth place for regional qualifying. Despite losing one runner off the boys' team due to an injury, the teams worked hard for their placements and exceeded expectations in qualifying for the regional race.
"Our runners this year truly showed how dedicated they are to the sport by showing up to practice every day to work hard and get better but also to support and push each other," said head coach Anne Lambert. "The hard workouts paid off at the races when they felt and looked strong and were able to run faster times."
With a total of 341 points and an average time of 25:24, the girls' team placed 12th at the regional meet, and the boy's team, totaled 344 points and a time of 19:32, they ranked in 14th place. Being a sport that has neither water breaks nor timeouts, the teams train rigorously throughout the season to perform well in the races. The team's success can be attributed to the runners who endure the difficult practices and the coaches who provide the runners with guidance.
"Their efforts showed at our meets because they progressed so strongly, and by the end of the season, they dropped minutes off their time," said girls team captain Loralai Lambert.