JROTC's air rifle marksmanship team dominates the competition
By Elise Finlay, Giancarlo Zarich and Eva Gonzalez
In Mar. of 2021, West Broward High Schools' Junior Reserve Officers' Training Corps' (JROTC) Marksmanship team achieved a landslide victory, placing in the top eight. They came out on top above other competing high schools in the annual JROTC Air Rifle Competition following a long break of COVID-19 restrictions.
For the first time since the 2019-2020 school year, West Broward's two-time State Championship-winning Marksmanship team made their return to compete in this year's modified competition. Teams across Broward County participated in the district event, testing their abilities. WBHS' JROTC Marksmanship team competed safely from school and competed against shooters from Cooper City High School and Charles W. Flanagan High School, resulting in a resounding victory.
"I'm absolutely impressed with them. They always exceed my expectations even though I know they're amazing," said Kenneth Valladares, a member of the JROTC Marksmanship team.  "They always go to a higher level, and I am extremely proud of my peers."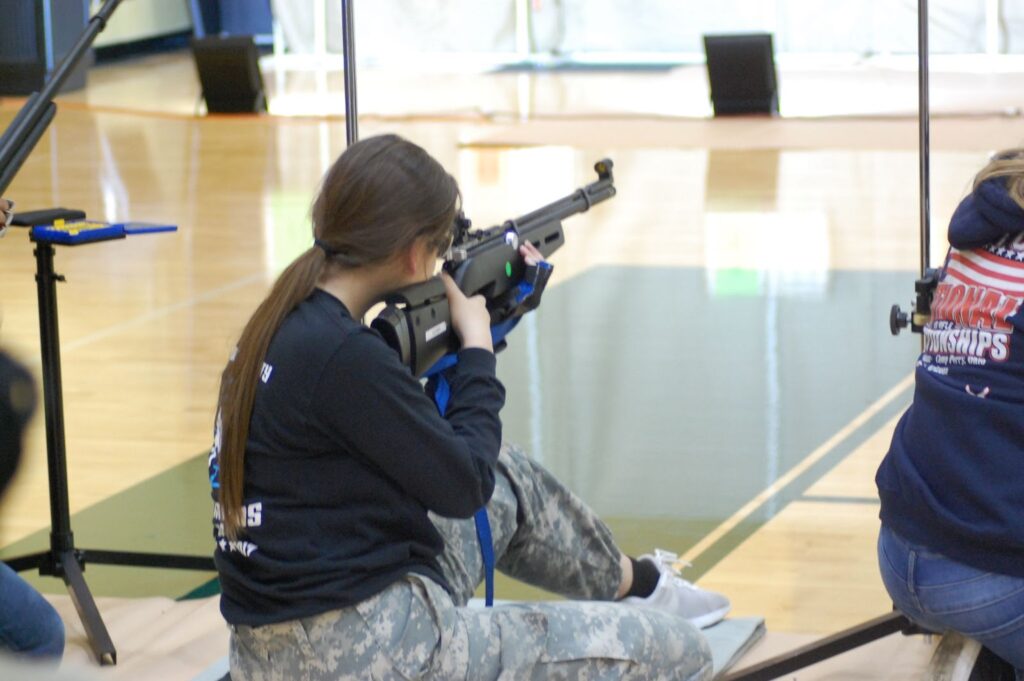 The JROTC Marksmanship competition utilizes air rifles and trains students to achieve the necessary precision and aim to hit certain targets. In past years, the JROTC competition has been an in-person occasion in which the different teams arrive with their targets positioned, later graded instantly by their scoring system O.R.I.O.N. However, this year had to change much of the set-up due to the pandemic. The event was done remotely within the school campus where the team practices. These postal matches had targets mailed to individual competing schools in advance, and sent back once the competition commenced.
"Because of the COVID-19 restrictions, the decision this year was made that we would do this championship match as a postal match." said Lieutenant Colonel Kenneth Merkel, West Browards' Head Lieutenant for JROTC. "The reason it's called a postal match is because the teams shoot their set of targets at their home range."
Despite the change to a postal match, WBHS' Marksmanship team scored excellently, placing all members of the group up on the top eight. The Marksmanship team Captain, Andrea Aylwin, placed first with a score of 532 out of 600 overall points. She got a total of 12 bullseyes, closely matched only by Edward Gispert, the second place winner, who followed up with an overall score of 504 points. Robert DiNino, gained a score of 499 overall points, placing third after Edward Gispert. The overall score for the team was 3,874 points with 66 bullseyes. Their closest competitor, Cooper City High, trailed behind with an overall team score of 1,937 points and only 4 bullseyes.
"Essentially, our worst shooters out of two teams beat the best shooters of the competing schools. That's how well West Broward did in the competition," said Lieutenant Colonel Merkel." I'm very proud of them."
With some hard work, the team managed to get back on track despite the many restrictions,  be victorious. All eight members of the group made it into the top ten, placing higher than the students from Cooper City High School and Charles W. Flanagan High School combined. Though they faced obstacles, the team managed to steamroll the competition, and have moved on to compete in the current statewide air rifle competition. They competed in the postal match on Apr. 19 and are expecting to see results soon. 
"I know that any time we go to a competition, we dominate. There's no doubt in my mind how good of a team we are, especially with our scores and how close we are with each other," said Captain Andrea Aylwin, the 1st place winner. "We're kind of a small team, but it makes us even closer."
It is evident by this year's competition what the heart of JROTC means. This program dedicates its work to instilling the confidence and logistic thinking that made the team victorious. With strong determination, they managed to come out on top, beating their competitors in another landslide victory. They look forward to continuing that goal on to the national level, and developing their skills to the best of their ability for their time at West Broward.
"Every kid on the Marksmanship team, every kid on any extracurricular team, is motivated to be there," said Brenna Humphries, the 6th place winner. "They are all very proud to be a part of the JROTC program and it's just really within their personality that they want to come to practice. They want to become the best."