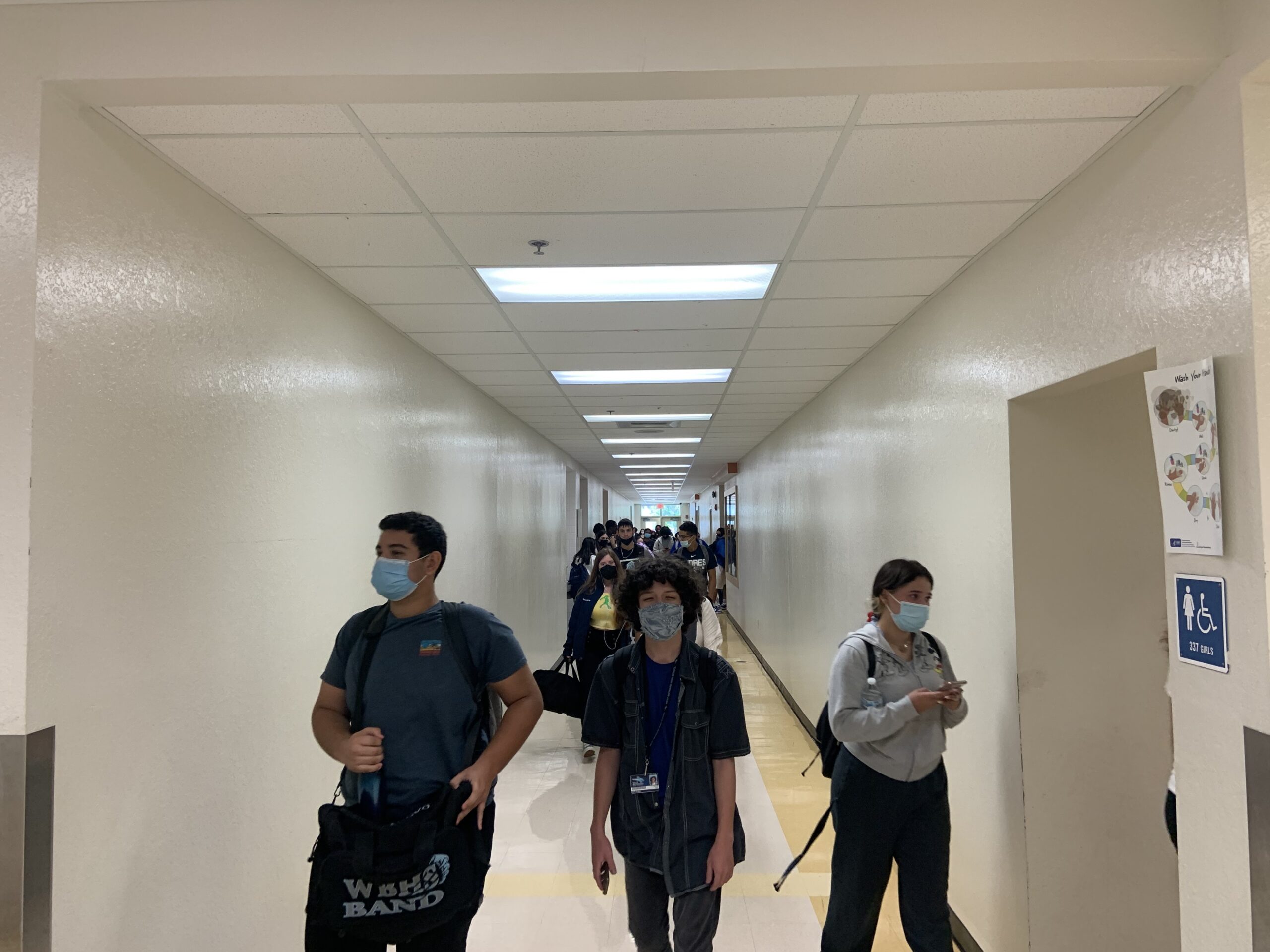 Desantis' ban attempt to mask mandates evokes conflicting opinions
Read Time:
3 Minute, 32 Second
MANDATORY MASKS: Senior Sebastion Bravo and Freshman Garret Carr wear their school-mandated masks in the hallway. Since the school year has begun, two counties in Florida have shut down in-person learning for a small amount of time. Photo by Sarah Perez
By Sarah Perez
On Aug. 21, an Army veteran was diagnosed with gallstone pancreatitis and was in need of surgery immediately. His local hospital did not have the necessary treatment, so he went to find one suitable for him. Veteran Daniel Wilkinson, who served in two deployments in Afghanistan, called hospital after hospital, asking for any availability they had. However, because of the recent spike of COVID-19, many hospitals had no vacancy. Nearly seven hours later, a V.A. Hospital finally had room for him. However, it was too late: Wilkinson had unfortunately passed away, not getting the help he needed in time. His tragic passing was the consequence of everyone who has ignored the risk of the virus. COVID-19 continues to be a threat to everyone, with or without the vaccine. Ignoring this blatant fact will not only lead to the harm of people around you but will take away medical resources from people that desperately need them.
On Jul. 30, DeSantis issued an Executive Order stating that mask mandates were banned in all schools across the state of Florida. Soon after, a judge concluded that the Executive Order was outside the Governor's power. Parents in Brevard County, Palm Beach Country and others have protested against the judge's order. The protesters argue that sending a child to school in a mask should be the parent's choice. On Sep. 10, the Florida appeals court ruled in favor of Desantis. However, the choice for a student to wear a mask to school should not be a choice. Their choice affects the health of both themselves and the people around them.
After only two weeks of in-person learning across the country, some schools have already started to shut back down. Both Gulf and Taylor counties in Florida have gone back to e-learning for a small period of time, and over 10,000 students in Hillsborough County have been quarantined. Shortly after the school year started, Florida hit a weekly average of 30,000 cases a week, and three Broward County teachers, all of them unvaccinated, have died of COVID. Masks are a necessity if learning in-person is going to continue. Because the COVID vaccine is only given to children ages 12 and up, students in elementary school and below have no other form of protection from the virus than masks.
Some are also claiming that, because of the vaccine, cases should automatically be lower. In an ideal society, this may be the case. However, the state of Florida is only 53 percent vaccinated. Because schools cannot obligate students and staff to get the vaccine, it is dangerous to assume that the people around you have been vaccinated. Having a mask during school provides a physical barrier against the virus, which is a necessity.
Not only has in-person schooling raised COVID cases in younger populations, but the COVID delta variant has caused cases in children to spread at a steady rate. The new variant has been found to spread faster than other variants. During late August, COVID cases hit a peak in Florida, with over 21,000 cases a week on average. Broward County also continues to be the third-highest county in Florida for average weekly COVID cases, next to Miami-Dade and Hillsborough County.
The persisting of senseless deaths like Wilkinson is borderline cruel, due to the fact that things like masks and vaccines are distributed. Willingly not participating in these safety protocols, as well as banning the obligation of these protocols, creates deaths that could have been prevented. Daniel Wilkinson was only 46 when he lost his life. Surgery for gallstone pancreas pancreatitis typically takes one to two hours. If Wilkinson simply had a hospital with a vacant room and surgeon, he would be alive today to enjoy his family. Ignorance of the prolonging disaster that is COVID-19 is a dangerous mindset that will lead to tragedies that are easily preventable.