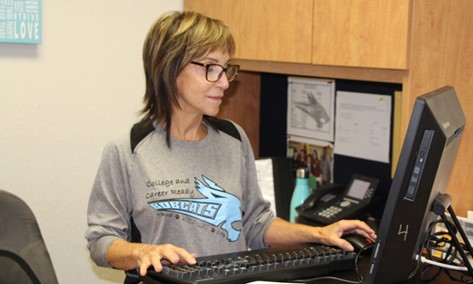 Broward says goodbye to a beloved coworker and guidance counselor
FINAL SERVICE: Guidance Counselor Marta Fernandez works on finaliz- ing her students' schedules for the 2022-2023 school year. After 33 years in education, Fernandez finished her counselor career as a Bobcat on Sept. 30. Photo by Armani Brutus
By: Armani Brutus
Guidance Counselor Marta Fernandez's desire to educate and help others around her is innate. Her love of education, and most importantly, assisting students and their families, flourished over her 33 years in education.
Having worked in this field since 1989, Fernandez has worked in six different schools throughout Miami-Dade and Broward. After three decades, she is saying goodbye to the field and focusing on other activities such as the Parkinson's Foundation, becoming a real estate agent, working privately with families about college and traveling the world with her husband of 30 years, Arnie Fernandez.
"Overall, it has been a wonderful expe- rience," Fernandez said. "I started out as a teacher, but once I became a counselor, my role became more meaningful to me and the relationships with my students."
Fernandez's first choice of career was business, specifically fashion merchandising, where she worked for five years. Afterwards, she worked for a summer program called the Private Industry Council (PIC), where she helped diligent students in low-income neighborhoods. Spurred on by another teacher, she got her certification in 1988 from the Florida Department of Education to teach business education.
"I went to work for a program that had federal funds to work with students during the summer who were from low-income areas and my task was to ensure that they were showing up and advising them on how to dress for work," Fernandez said. "I met Magali Abrahante, and she said to me, 'You work with students really nicely. You should think about getting your cer- tification in education,' and I said, 'You know what? I will try that.'"
Fernandez later took the opportunity to work in student advocacy, where she gathered information for parents concerned about potential schools. However, the department eventually dissolved and merged into the Equal Education Opportunity Office (EEOC), where she interviewed and investigated teachers.
"We were a center for parents to call us when they had questions about a pro- cess or something they did not understand about what was going on in their child's school," Fernandez said. "That merged into the EEOC, and what we did was investigate any claims that teachers may have had against another teacher."
During her time with the EEOC, she received her master's degree in counseling from Barry University and gave birth to her two children, Danielle and Christopher Fernandez. Fernandez moved to Broward County and worked at Cypress Bay High School as a counselor for four years, where she met Guidance Director Mishelle Difede, later transferring with Difede to West Broward High.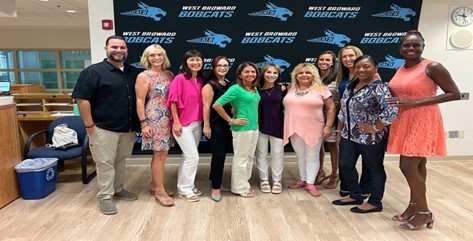 ONE LAST TIME: (left to right) Guidance Counselor Lazaro Porto, General Clerk II Claire Gallagher, Brace Advisor Tina Hartzell-Strauss, Information Management Specialist Heather Levin, Registrar II Janet Zapata, Guidance Counselor Marta Fernandez, Administrative Support Assistant II Minerva Taveras, Guidance Counselor Warken Tien, Guidance Director Mishele Difede, Guidance counselors Joy Brown-Cooper and Michelle Bellamy have one last photo together. Fernandez retired on Sept. 30 and headed off for new adventures. Photo by Armani Brutus
"We both came over here at the same time as counselors and have been together here for 15 years. She works so hard and goes way above and beyond for her stu- dents," said Difede. "I am going to miss her terribly, and more than that, I value her friendship."
As one of the original Bobcats, Fernandez would see generations of students come and go, including her own children. Registrar II Janet Zapata specifically shared this experience as both of their children graduated from West Broward
together. Zapata, through her experiences with Fernandez and how she interacts with her family, would take Fernandez's values as something to never be forgotten.
"She is a good family-oriented person and she carries that into her job because it shows the dedication and patience she has with her students," Zapata said. "I think that is what I will take from her. She is just a genuine, kindhearted person."
Fernandez's departure would come eight weeks into the 2022 school year due to the Florida school system's policy known as the Deferred Retirement Option Program (DROP). Fortunately, this would give her the ability to spend more time with her Bobcat peers in the guidance office and the students at West Broward. Fernandez's final act of service to those around her is a message for everyone to try and get along with people and to learn as much as you can from those around you.
"Try to learn from everyone because you never know what's going on in other people's lives and there's a path and a reward for you. Learn who you are, stick to your path and pay attention to others," Fernandez said.