Biscayne Bay turns from pretty to polluted
by Allison Keppinger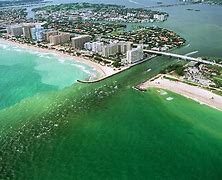 Biscayne Bay is suffering and so are its inhabitants. The bay is filled with nutrient pollution from storm water runoff, septic tanks, sewage pipe breaks and several other contaminants. The pollution has killed and is continuing to kill coral, seagrass and animals such as fish, including toadfish, barracudas, rays, eels, lobsters etc. The damage has been reported to have gotten so bad that soon this will become unrepairable. Director of nonprofit Florida Bay Forever, Emma Haydocy reflects on the similarities between the decline of Biscayne Bay and Florida Bay, as far as implementing a solution to hypersalinity. As a solution to hypersalinity, Haydocy believes that there should have been progress over the last 15 years, but it has only worsened and destroyed more than 40,000 acres of seagrass. Dozens of species were affected and the depth and seriousness of this is unlike anything before for Biscayne.
In August, thousands of fish were reported dead and floating in the bay due to the pollution. Scientists said they initially saw some minor changes in the bay as early as 1995 and it only worsened from there. The Central Everglades Restoration Plan (CERP) was authorized by congress in 2000 but there has been no progress since then.The low oxygen levels have been killing animals, coral and seagrass and are continuing to get lower.
"The lack of political will and inaction on behalf of Florida Bay prevented a solution of hypersalinity in the dry season to take hold," Haydocy said. "What could have been 15 years of progress instead catalyzed the die- off of more than 40,000 acres of seagrass on Florida Bay."
Biscayne Bay pollution rate is continuing to rise and, if people do not start taking action it will soon be unrepairable says Haydoecy. The bay is crucial to our economy and Miami Dade County. Several elements of the economy such as real estate, trade and tourism rely heavily on a robust ecosystem and the bay is at its tipping point. It is important to keep the bay healthy as it affects the county's growth and success.
"Miami-Dade County's annual GDP is over $100 billion, and a large part of it stems from real estate, trade, and tourism, all of which depend on a healthy environment," stated Irela M. Bagué, Chair of the Miami-Dade County Biscayne Bay Task Force.
Beyond its effects on the economy, the oxygen levels in the bay have started to get lower over the years. Currently, the levels are around 6 percent at the bottom and 20 to 30 percent at the surface. Other parts of the bay measured as low as 0 percent. The low levels has resulted in killing many fish along the coast and reports of gray-green algae in water was also responsible for the dying fish. Scientists and members of (CERP) are trying to take action. Although the levels are low, there is still a chance in saving Biscayne Bay by reusing and reducing everyday products. If residents start to consider making minor changes they can help the bay and help future generations too.
"I think if everyone would think of the future generations and the effects of littering and pollution and starting recycling more they would help lower income residents and the environment in the future" said Diego Llamas, sophomore at West Broward High School.
People taking part in helping and investing their time are very focused on how the lack of freshwater is going to affect the animals and reefs. The lack of freshwater causes hypersalinity- elevated levels of salts in the water. The cost to rescue the bay is rising everyday, and there is not much time left. Florida and Miami Dade have agreed to spend $20 million restoring Biscayne Bay. The money will further help the water, seagrass, coral reef and animals. One of the fund projects will take $1.15 million which will go towards new sewage lines. It will become more affordable for homeowners.
"For Miami-Dade to be able to say 'absolutely, we have skin in the game' makes it very easy for me to say 'of course, let's get this done," said Ron DeSantis, Florida Governor. "We will continue to work with folks in Miami-Dade County to make that happen."