by Gillian Stewart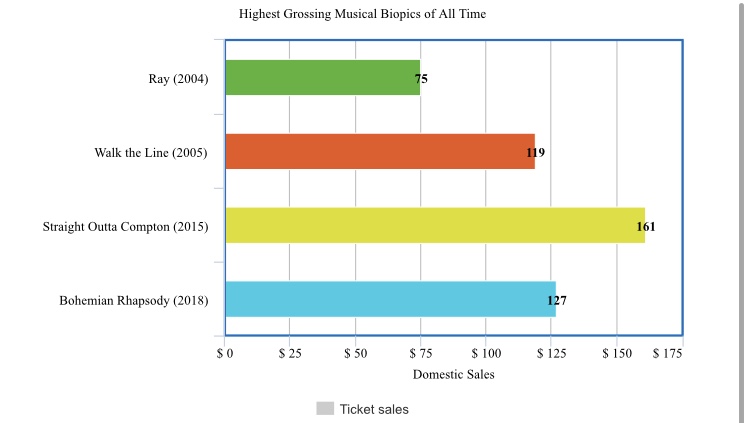 "Bohemian Rhapsody," a six-minute combination of rock and classical opera creates a beautiful harmony that people from all generations can sing and dance to. With this song, Queen acquired a worldwide following in the 1970s that is still increasing as of 2018. Now, the famous song title has become the name for the movie of the season. On Nov. 2, the musical biopic Bohemian Rhapsody was released.
Director Bryan Singer was able to make fans of the musical group feel the same emotions they had experienced in the past. The film is set between the band's formation in 1971 and Queen's legendary performance at Live Aid in 1985. Singer gives an inside look into the beginning of the band, as well as showing the creation of some of Queen's iconic songs such as "Another One Bites The Dust," "We Will Rock You," and of course "Bohemian Rhapsody."
This film served fantastic entertainment with beautifully directed cinematography that captured the audience's eyes within seconds. The scenes of the band's adrenaline-rushed concerts were remarkably accurate compared to the real-life events. For instance, the film was able to capture most details of the band's iconic Live Aid performance. The scene got everything right, from the crowd's synchronization during "Radio Ga Ga" to Mercury's dancing across the Wembley stage.
Actor Rami Malek gave an outstanding performance depicting lead vocalist of Queen, Freddie Mercury. Malek was able to portray Mercury's colorful personality as embodied in his dance moves and clothing choices. The actor was able to give an outstanding performance trying to portray Mercury's creative ways, which traveled through the music he wrote.
The film did have its own hand of cons in a sea of pros. It felt more of a Freddie Mercury film rather than a Queen biopic. Bohemian Rhapsody did not give as much of justice to other band members: Roger Taylor, played by Ben Hardy, Brian May, played by Gwilym Lee, and John Deacon, played by Joseph Mazzello. The members were seen as supporting characters rather than as equal to Mercury in the film. Queen itself was not as seen in the film like how fans saw the band — a group that left its mark on pop culture. However, the film continued to show the creativity and authenticity of each song produced by the band.
Bohemian Rhapsody is a exceptional biopic that has brought out original fans of Queen, as well as attracting new generations. With a runtime of 134 minutes, the film was a great production that had audiences glued to their seats. The movie allows the audience to remember and sing along to the timeless songs the authentic group composed. The film gave depth to Queen's unique personality as well as give audience the chance to hear and appreciate revolutionary music the band generated. Bohemian Rhapsody is not the only hot media to take over the box office.